Why you should overcome these 3 bad investing behaviors
By Russ Koesterich, CFA

Nov. 26 2019, Updated 12:04 p.m. ET
Do you avoid the stock market? Shun diversification? Trade inefficiently? Russ and guest blogger Nelli Oster — an investment strategist on Russ' team — examine three common bad behaviors among investors and provide tips for potentially mitigating their impact.
Many finance experts assume that investors act rationally to maximize profits while minimizing risks.
But as we write in our Market Perspectives paper, investors routinely make a number of irrational missteps that can be explained by a growing body of behavioral finance research, which studies how people make money-related decisions. Here's a look at three of these common investing bad behaviors.
Article continues below advertisement
1. Stock market avoidance. Many people avoid risky assets like the stock market despite the high cost of staying out of such investments, particularly in the current, low-yield environment. Consider, for example, that adjusted for inflation, the return on cash left in a bank account was negative for 2012. In comparison, world equity markets as measured by the MSCI All Country World Index returned 13.4% in US dollar terms during the same period.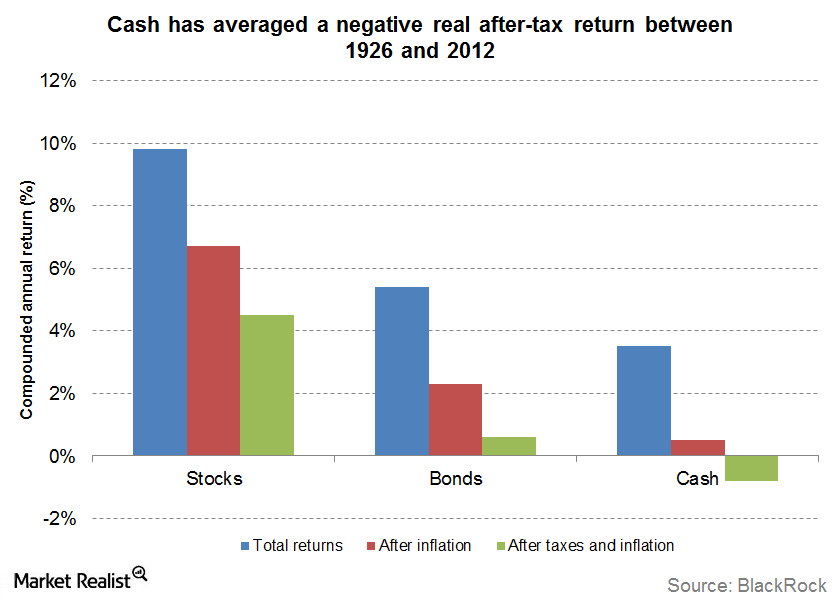 Market Realist – The graph above shows the average returns, after tax and inflation, from U.S. equities (SPY), bonds (BND), and cash from 1926–2012.
U.S. equities (IVV) have given better average annual returns than cash and bonds, including Treasuries (TLT). Plus, their returns after tax and inflation look better than stocks as well.
According to BlackRock estimates, the after-tax real returns from U.S. equities for the period stand at 4.5%. For bonds including Treasuries (IEF), returns stand at 0.6%. Cash has given negative returns of -0.8%.
This difference in returns is primarily due to the erosion of cash purchasing power over longer periods, as it's subject to inflation. Holding excessive cash in your portfolio also means that the portfolio holder incurs opportunity costs and foregoes returns that they could have enjoyed had they invested in the markets instead.
Read on to the next part of this series to learn why investors tend to shy away from stocks.