Why Oracle's engineered systems should drive hardware growth
By Anne Shields

Sep. 1 2020, Updated 12:12 p.m. ET
Oracle's engineered systems preference is rising
Oracle's (ORCL) Engineered Systems business comprise the Oracle Exadata Database Machine, Oracle Exalogic Elastic Cloud, and Oracle SPARC SuperCluster products. Oracle's engineered systems combine Oracle's enterprise software with the high-performance SPARC-based hardware that the company acquired from Sun Microsystems.
Oracle engineered systems contain hardware and software are designed to work together to enhance customer value and satisfaction. These integrated solutions, where hardware, software, and services work in unison, are very much preferred in the technology market.
Article continues below advertisement
The Oracle Exadata Database Machine X3-8 combines Oracle Database, Oracle Exadata Smart Scan, and Smart Flash Cache technologies, hybrid columnar compression, storage, and InfiniBand networking in a server rack with up to 160 CPU cores that are pre-configured and optimized for the highest performance.
The success of Google Android mobile devices, Apple's iPhone, and Microsoft's Surface tablet computer highlights this fact.
If Oracle's Engineered systems continue to post good results, it will not only benefit Oracle investors but also ETFs such as the iShares North American Tech-Software ETF and the SPDR MFS Systematic Growth Equity ETF . These funds have significant exposure to Oracle.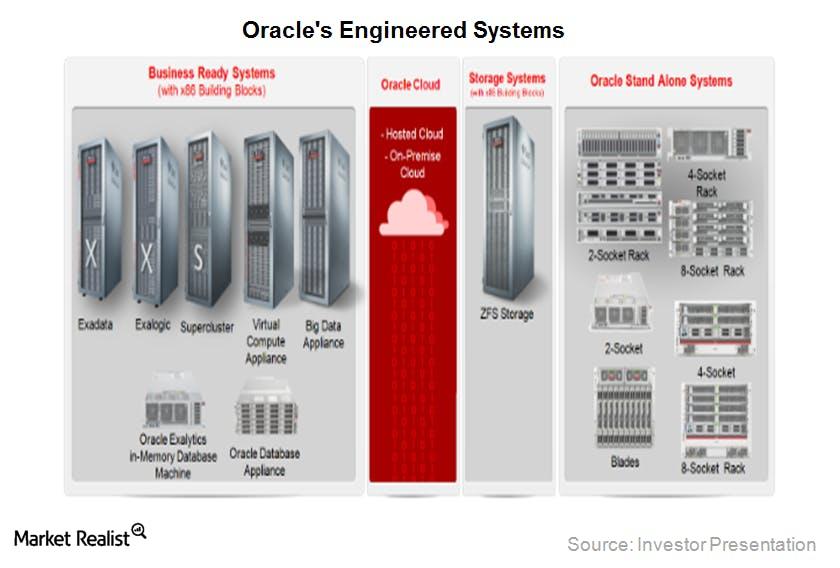 Article continues below advertisement
x86 and SPARC servers upgraded to engineered systems
Oracle offers a full line of SPARC- and x86 server-based systems. Oracle's Engineered Systems run on a Unix-based SPARC architecture that commands high margins. Although there's a standard procedure for x86 architecture, most advanced software packages are still compatible on a Unix system.
Oracle seems keen to refocus its Unix Enterprise offering on its core customers by creating a closed, Unix-based Solaris system. This way, Oracle could manage customer upgrades and generate gains from incremental Unix deployments and migrations. The effort seems to have paid off, as engineered systems have shown good growth.
Exadata – A cloud platform for databases
Exadata is equipped with flash memory for low-latency data access and high-capacity storage to handle very large databases. External communications in Exadata are sped up through the use of ultra-fast, Infiniband-based networking. Owing to its technical attributes, Oracle claims that it's an ideal cloud platform for databases.
Rising contribution in hardware segment
In March 2014, Oracle's ex-CEO Larry Ellison mentioned that engineered systems account for more than 30% of hardware the product sales and are expected to rise to 50% in the future. Oracle's engineered systems, due to their efficient integration and associated benefit, have shown steady growth, contributing to hardware systems growth.