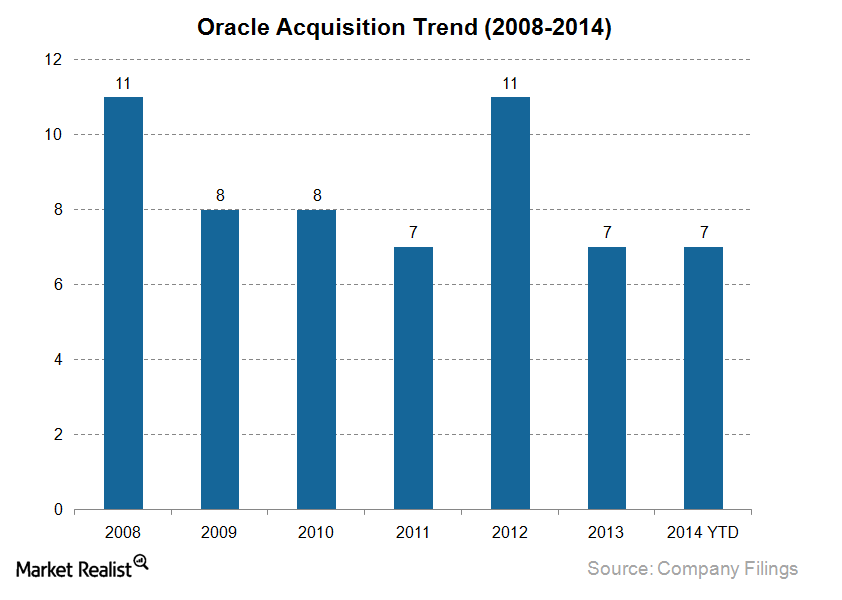 Oracle adds Front Porch Digital to its long list of acquisitions
By Anne Shields

Sep. 19 2014, Updated 9:00 a.m. ET
Oracle acquires Front Porch Digital to foray into the digital media business
On September 15, 2014, Oracle (ORCL) announced its acquisition of Front Porch Digital. It didn't disclose the financial details of the deal.
Front Porch Digital is a Colorado-based, privately held company that aids in the storage and management of digital media, such as high-definition films and TV shows, medical images, and data from security monitors.
Front Porch Digital has more than 550 customers worldwide. Its customers include media companies and content providers like the BBC, ABC, ESPN, and Discovery Communications. Front Porch Digital manages over 750 petabytes of digital content.
Oracle has adopted the acquisition route to diversify its offerings
Oracle has spent approximately $50 billion to acquire 100 companies in the last ten years. In 2014 alone, apart from Front Porch Digital, the company acquired seven companies, including Corente, BlueKai, GreenBytes, LiveLOOK, MICROS Systems, and TOA Technologies.
Leading software players IBM Corp. (IBM), EMC Corp. (EMC), SAP AG (SAP), and Microsoft Corp. (MSFT) all have been quite aggressive lately in their acquisition strategy to increase their competitive edge as well as a presence in the cloud space.
How this acquisition is expected to benefit Oracle
Article continues below advertisement
The Front Porch Digital acquisition is expected to let Oracle help organizations more effectively and efficiently manage the growing complexities associated with the migration, integration, storage, and delivery of rich media content. Oracle could also target its database, content management tools, and analytics offerings to Front Porch customers.
Oracle has been known to acquire companies for their domain expertise. Through this acquisition, Oracle adds another useful cloud service business to its offerings and a well-defined digital media market niche.