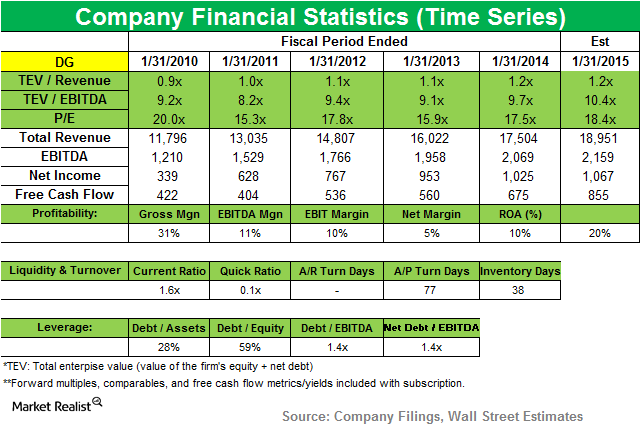 Must-know: Omega Advisors exits a position in Dollar General
By Samantha Nielson

Sep. 10 2014, Updated 1:00 p.m. ET
Overview
Omega Advisors' new positions include hedge fund favorites—Navient (NAVI), KKR & Co. (KKR), and Apple (AAPL). It also raised its stakes in Comcast Corp. Class A shares (CMCSK) and Ocwen Financial (OCN). The top positions sold were Dollar General (DG) and ADT Corp. (ADT).
Omega Advisors disposed a position in Dollar General in the second quarter of 2014 (or 2Q14) that accounted for 1.23% of the fund's 1Q14 portfolio. In June, we reported that the position was initiated in 1Q14.
Dollar General overview
Article continues below advertisement
Dollar General is a large discount retailer in the U.S. by number of stores, with 11,535 stores located in 40 states as of August 1, 2014, primarily in the southern, southwestern, midwestern, and eastern U.S. It offers a broad selection of merchandise, including consumable products—such as food, paper, cleaning, health and beauty, pet supplies, and tobacco products—and nonconsumable products such as seasonal merchandise, home decor, domestics, and basic apparel.
Family Dollar rejects $78.50 per share offer from Dollar General
On August 18, Dollar General made a proposal to acquire Family Dollar Stores (FDO) for $78.50 per share in cash. It said the combination with FDO would solidify Dollar General's position as the largest small-box discount retailer in the U.S., with nearly 20,000 stores in 46 states and sales of over $28 billion. The transaction valued FDO at approximately $9.7 billion.
This $8.9 billion offer was rejected by FDO on August 21, 2014. FDO's board has been favoring Dollar Tree's (DLTR) $8.5 billion bid for the company that was announced on July 28. In a statement, FDO noted that Dollar General's offer was rejected because of "antitrust issues."
Dollar General sweetens bid but could turn hostile
Article continues below advertisement
Dollar General recently increased its all-cash proposal for FDO to $80.00 per share. In a statement, Dollar General said it'll also increase the number of stores that it would be willing to divest to 1,500 if ordered by the Federal Trade Commission (or FTC). It agreed to pay a $500 million reverse breakup fee to Family Dollar relating to antitrust matters.
The current offer price represents a premium of 31.9% over the closing price of $60.66 for Family Dollar stock on the day prior to the Dollar Tree announcement. Dollar General's management also warned the company could directly approach FDO's shareholders if the board rejects the offer.
Dollar General's same-store sales growth sees challenges from competitive environment and consumer spending trends

Dollar General posted a $251 million net income, or $0.83 per diluted share, in 2Q14, compared to a $245 million net income, or $0.75 per diluted share, in 2Q13. Net sales missed estimates but was up 7.5% to $4.72 billion from $4.39 billion in 2Q13. Same-store sales increased 2.1%, with increases in both customer traffic and average transaction value.
Dollar General's management said that same-store sales "began very strong with a year over year increase in May of more than 3.5%; however, this growth moderated as we moved through June and July given the competitive environment and a consumer who, although resilient in the face of economic uncertainty, remains cautious with her spending."
Article continues below advertisement
The company said that consumables sales continued to increase at a higher rate than nonconsumables, with the most significant growth related to tobacco products, perishables, and candy and snacks. Same-store sales growth was robust in home products and apparel. The sales increase was also impacted by new stores, partially offset by sales from closed stores.
Gross profit fell 53 basis points year-over-year due to an increase in markdowns, primarily relating to increased promotional activities. Also, consumables comprised a larger portion of net sales, primarily due to increased sales of lower margin consumables, including tobacco and perishable products.
Ongoing initiatives to drive sales and gross profit margins
Dollar General said for its full year in 2014, that total sales are expected to increase 8% to 9% over the 2013 fiscal year, with same-store sales expected to increase 3% to 3.5%. It forecasts that its fiscal 2014 adjusted diluted EPS (or earnings per share) will be $3.45 to $3.55. The company opened 426 new stores in the first half of 2014 and plans to open 700 stores for the full year.
The company said in its quarterly filing that ongoing initiatives to enhance gross profit rate include "merchandise category management, utilization of private brands, inventory shrink reduction initiatives, efforts to improve distribution and transportation efficiencies, and strategic focus on pricing and markdowns, while remaining committed to the everyday low price strategy."
Competition
Discount retailers such as Dollar General, Family Dollar, and Dollar Tree are facing competition from big-box retailers, such as Walmart (WMT) and Target (TGT), that are expanding with small-format stores as shoppers increasingly look for convenience.
Both Walmart and Target are struggling with competition from discount retailers drugstores like CVS and Walgreens and e-commerce giants such as Amazon (AMZN).
Family Dollar and its peers, Dollar General and Dollar Tree, are members of the SPDR S&P Retail ETF (XRT) and the Consumer Discretionary Select Sector SPDR Fund (XLY).