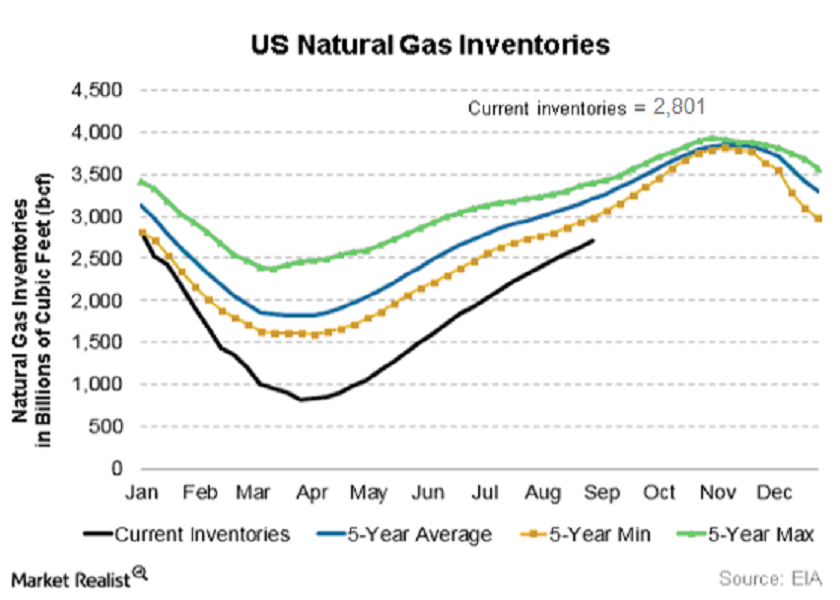 Why natural gas inventories' figures are key to energy investors
By Keisha Bandz

Sep. 12 2014, Published 3:26 p.m. ET
Natural gas inventories
The U.S. Energy Information Administration (or EIA) reports natural gas inventories' figures weekly.
Natural gas use is the highest in the winter. Heating demands are highest in the winter. Storage levels decline during these months. The summer months are usually considered to be the "injection season." Natural gas storage levels are replenished by producers during the summer.
Natural gas inventories' seasonality
Markets monitor inventory levels every week. The markets determine if the inventory levels will reach sufficient levels before the winter season begins. Stronger demand could cause significant shortfalls in injections before the winter starts. This could strain available supplies.
While natural gas demand is high mostly during the winter, hot temperatures during the summer months can also cause demand to increase. Power stations—that power cooling devices like air conditioners—require more fuel during the summer.
What happens when supplies are strained?
Supply can become strained due to rising demand, especially in the winter. As a result, natural gas prices can also increase. This is what happened last winter. It was one of the most severe winters the U.S. experienced in recent years. Heating demands were at their highest.
Natural gas prices touched $6 million British thermal units (or MMBtu). However, the prices eased back to levels closer to $4 earlier this year.
Later in this series, we'll discuss natural gas price movements last week.
Inventories and prices
Analysts determine if the supply levels will increase or decrease based on the weather. Cooler summer months could lead to less natural gas demand. As a result, analysts would anticipate an increase in inventories.
If inventories rise more-than-expected, it implies either greater supply or weaker demand than analysts expected. This is bearish for natural gas prices.
However, if the increase in natural gas inventories is less-than-expected, it implies either weaker supply or greater demand than analysts expected. This is bullish for natural gas prices.
Analysts expected inventories would increase by 84 billion cubic feet (or bcf) last week. We'll discuss actual inventory changes in the next part of the series.
Key stocks and ETFs
Natural gas prices determine the margins for gas producers like EOG Resources (EOG), EQT Corp. (EQT), Southwest Energy Partners (SWN), and Cabot Oil and Gas (COG). All of these companies are components of energy exchange-traded funds (or ETFs) like the Energy Select Sector SPDR ETF (XLE).
To learn more about why investors monitor natural gas inventories, click here.
The next parts in the series will discuss the changes in natural gas inventories last week. We'll analyze how the changes impacted natural gas prices.
Article continues below advertisement