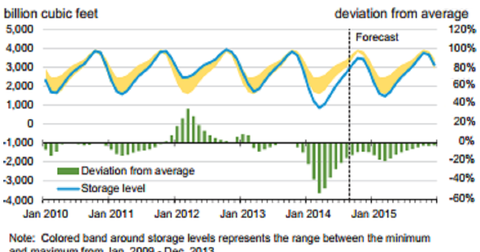 Must-know: Why natural gas prices could have a silver lining
By Keisha Bandz

Updated
EIA projections
In the previous parts of this series, we talked about the U.S. Energy Information Administration's (or EIA) expectation of a 3,477 billion cubic feet (or bcf) inventory build by the end of October.
However, this is still 339 bcf lower than the inventory levels at the same time last year.
Winter weather will determine prices
Considering the relatively low inventory levels before the start of the winter season, gas prices could spike. Click here to learn more about how winter weather impacts natural gas prices.
However, you have to consider the natural gas production rate over the past few months. It appears that the market anticipates comfortable storage levels before the winter starts. This has made natural gas investors question natural gas prices' future.
If the winter is severe like last year, it will be bullish for natural gas prices.
Strong prices are good for gas producing companies' margins like Chesapeake Energy (CHK), Cabot Oil and Gas (COG), Devon Energy (DVN), and EQT Corp. (EQT).
All of these companies are components of the Energy Select Sector SPDR ETF (XLE).
Other factors that could support natural gas prices
Other factors that could support the natural gas prices include:
Power generating companies – According to the EIA, the demand for natural gas as an electricity source will increase gradually in the coming years. The EIA projects that natural gas consumption in the power sector will increase to 22.8 bcf per day in 2015 from 21.9 bcf per day in 2014.
Article continues below advertisement
Industrial and residential sectors – Lower-priced natural gas is a cost advantage for the industrial and residential sectors. The industrial sector will likely increase consumption to tap into this advantage. This won't be available outside North America. According to the EIA's Short-Term Energy Outlook, growth in industrial demand will continue through 2015. Consumption will average 21.3 bcf per day in 2014 and 22.1 bcf per day in 2015.
Exports – Liquefied natural gas (or LNG) exports from the lower 48 states are expected to increase natural gas demand. The first LNG facility is expected to come online in 2015. The EIA expects that the U.S. is positioned to transition from being a net importer of 1.5 trillion cubic feet (or tcf) of natural gas in 2012, to a net exporter of 5.8 tcf in 2040.
The coming winter months and the subsequent heating demand will also impact propane prices.
In the next part of the series, we'll discuss the changes in propane inventories last week.