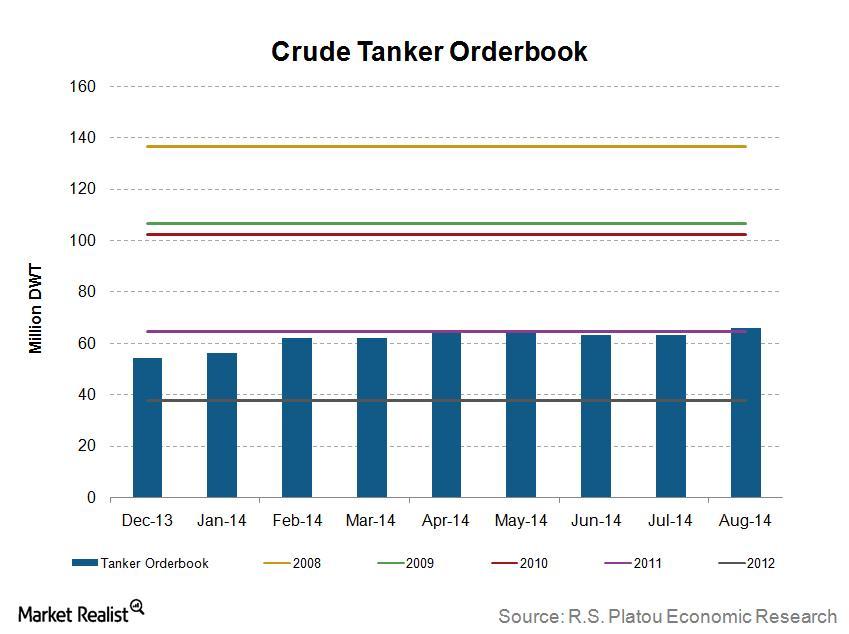 Must-know: Why the crude tanker orderbook is expanding
By Katie Dale

Nov. 20 2020, Updated 12:45 p.m. ET
Why is the orderbook important?
In order to assess the industry's fundamental outlook, managers use the oil tanker orderbook. It's an important yardstick. It includes the number of ships that have been ordered and the number of ships under construction. A rising orderbook usually suggests that oil tankers have a better expectation for future supply and demand dynamics. The dynamics are favorable for new or existing ships. The ships are generating good returns. A falling orderbook paints a negative picture.
Orderbook is increasing
The crude tanker orderbook increased to 65.9 million deadweight tons (or dwt)—753 vessels—in August from 63 million dwt—730 vessels—in July 2014.
Article continues below advertisement
A rising orderbook suggests that investors and managers are ordering more vessels than new ships being delivered. This reflects managements' optimism that investment returns are favorable. Investment returns can be favorable because of rising rates, higher-than-expected rates, or attractive current vessel prices.
Impact on companies
With an increasing orderbook, we can assume that managers have a positive outlook for the industry. We can assume that managers are increasing orders to meet the expected demand increase.
Buying a new tanker is a large investment that can reach up to $100 million and above. Delivery dates are usually for more than two or three years ahead. As a result, managers and investors tend to be careful when they place orders. As long as ship orders continue to rise, the long-term prospects of the Guggenheim Shipping ETF (SEA) and tanker stocks—like Teekay Tankers Ltd. (TNK), Tsakos Energy Navigation Ltd. (TNP), Nordic American Tanker Ltd. (NAT), and Frontline Ltd. (FRO)—remain favorable.
In the next part of the series, we'll discuss how the import data is supporting the crude orderbook.
Visit the Market Realist Marine Shipping page to learn more about the shipping industry.