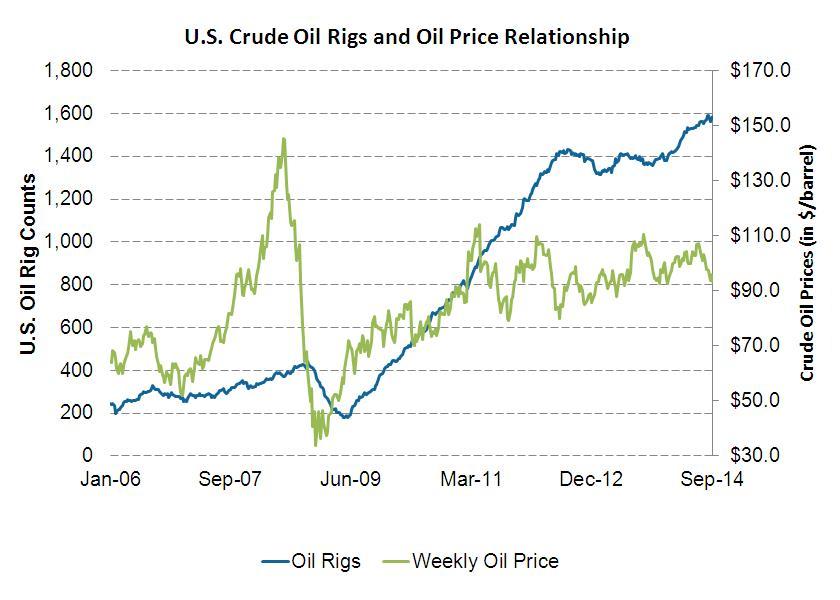 Must-know: The relationship between oil rigs and crude prices
By Alex Chamberlin

Sep. 10 2014, Published 4:39 p.m. ET
Oil rigs and crude prices
Oil rigs have a positive relationship with crude oil prices and oil production. The number of rigs in play will loosely follow prices with a lag. Oil producers keep increasing the number of rigs drilling for oil as long crude oil prices make production profitable.
As prices increase, rig additions may accelerate. When prices fall, rig additions may slow.
However, for the number of rigs to fall or go into a clear downward trend, crude oil prices would need to fall to levels that make oil drilling unprofitable. This is a rare occurrence. We saw this happen after the 2008 crisis.
During "ordinary" periods, the general upward trend in rigs should remain intact. There can be occasional bumps that will loosely reflect substantial changes in oil prices.
This week, oil rigs recovered towards the long-term upward trend. However, West Texas Intermediate (or WTI) crude prices showed weakness. The prices ended at ~93 per barrel—3% lower compared to the previous week.
A two-way street
It's important to note that in the long term, increasing rig counts can cause prices to decrease. This happens because more rigs increase oil production. The increased supply will help control prices.
In the above chart, you can see that the number of oil-targeted rigs increased approximately eightfold from 2009 to 2014. The increase in U.S. oil production has kept WTI prices lower compared to the international benchmark—Brent.
Key stocks and exchange-traded funds (or ETFs)
Article continues below advertisement
U.S. upstream companies that produce oil—like Chevron (CVX) and Marathon Oil Corporation (MRO)—could see higher revenues. The higher revenues are a result of increased drilling and oil production in the near term. They could also suffer from reduced profitability if WTI prices weaken more in the long term.
A better way to play the rising rig trend would be to invest in oilfield service companies like Baker Hughes (BHI) and Schlumberger Ltd. (SLB). These companies are more insulated from short-term swings in oil prices compared to upstream companies.
Some of the companies we discussed above are components of the Energy Select Sector SPDR (XLE). XLE is an even better way to gain diversified exposure to the oil and gas exploration and production industry.
In the next part of the series, we'll discuss how rigs and oil production are related.