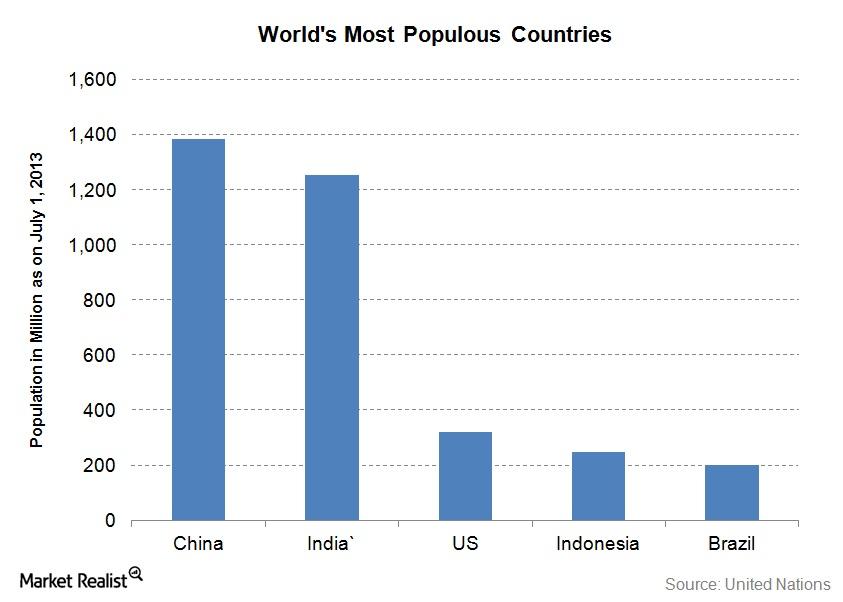 Must-know: The power sector in India
By Mike Sonnenberg

Oct. 29 2019, Updated 8:07 p.m. ET
The second biggest market
With a population of over 1.25 billion, India is the second biggest market in the world. China is the largest market. India is attractive to retailers like Amazon and Walmart. However, India's power sector is also attractive to the U.S. American coal producers like Walter Energy (WLT), Arch Coal (ACI), Cloud Peak Energy (CLD), and Peabody Energy (BTU) are interested in India. In the past, financial media has neglected this topic. In this series, we'll update our readers on India's power sector. We'll analyze why it's attractive for American coal producers.
India's power sector
Article continues below advertisement
India had a total installed capacity of 253.4 gigawatts (or GW) at the end of August. India ranks third in countries with the highest installed power generating capacity. China and the U.S. are the top countries. In 2013, India passed Japan and Russia to claim the third spot. However, India ranked a dismal 107 for capita electric power consumption—according to 2011 data compiled by the World Bank. India's 2011 per capita electricity consumption was just 684 kilowatt hours (or kWh). China had 3,298 kWh. The U.S. had 13,246 kWh.
The silver lining
The dismal per capita electricity consumption leaves much to be desired. However, it presents an opportunity for generation, distribution, and transmission companies operating in India. The newly formed government has kept infrastructure development at the top of its agenda. There have been meetings between India's Prime Minister with his Japanese and Australian counterparts. The meetings highlighted how serious the new government is about energy sufficiency—see An India-Japan partnership pushes Indian ETFs to new 2014 highs). The WisdomTree India Earnings Fund (EPI) invests in the Indian equity market.
In the next part of the series, we'll discuss India's electricity generation sector. We'll analyze the sector's current state. We'll also look at the opportunities that the sector offers to global generation companies and their investors.