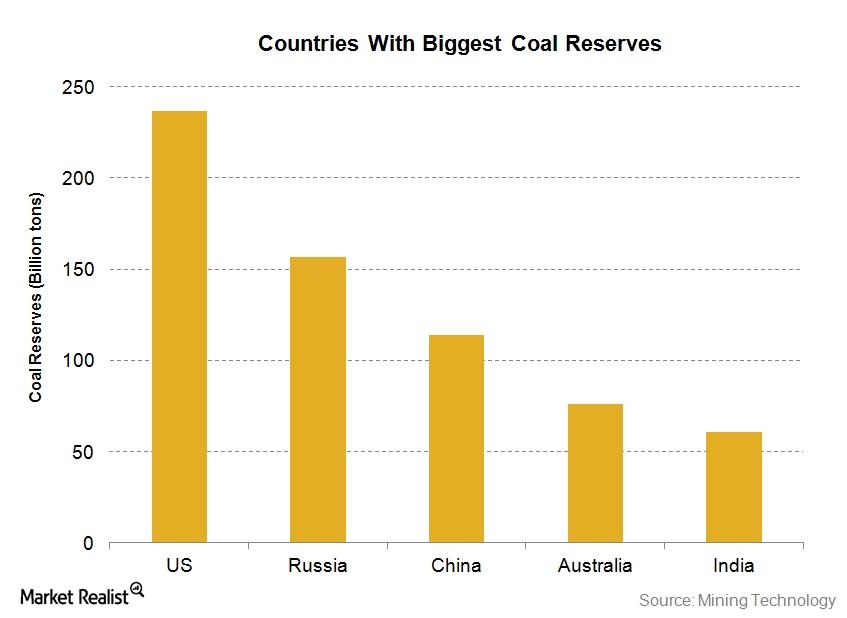 Must-know: An overview of the US coal industry
By Mike Sonnenberg

Nov. 20 2020, Updated 5:11 p.m. ET
U.S. coal industry
The U.S. coal industry is going through a hard time. The met coal market is oversupplied because of a slump in demand. The domestic thermal coal demand could slowly become extinct. The decline is led by the shale gas boom and U.S. Environmental Protection Agency's (or EPA) "war on coal."
We've covered the shale gas boom and EPA regulations extensively in our coal section. In this series, we'll discuss the different types of coal. We'll discuss the economics of the different coal producing regions in the U.S. You'll learn how it could affect your investment in coal stocks and exchange-traded funds (or ETFs) like the VanEck Vectors Coal ETF (KOL).
We'll start by discussing the U.S. coal sector. Click here for a more detailed overview of the U.S. thermal coal industry.
Second largest coal producer in the world
Article continues below advertisement
With just under a billion tons produced in 2013, the U.S. ranks second in coal production. China is the largest producer with 3.7 billion tons. However, the U.S. holds much higher coal reserves at 237 billion tons—over a quarter of the world's coal reserves. China has coal reserves at 114 billion tons. At the current consumption rate, the U.S. reserves can last for over 200 years. China's reserves will be exhausted in just over three decades.
Coal is mined in 25 states across the U.S. Five states—Wyoming, West Virginia, Kentucky, Pennsylvania, and Illinois. It accounts for over 70% of the total production. The North Antelope Rochelle in Wyoming—owned by Peabody Energy, (BTU)—is the largest coal mine in the world. It has estimated reserves of more than 2.3 billion tons. Apart from North Antelope Rochelle, two other mines—Black Thunder (ACI) and Coballo, both located in Wyoming—are on the list of the ten biggest coal mines in the world.
All coal isn't black
All coal isn't the same. Coal has different qualities and characteristics. It's necessary for us to understand coal's basic characteristics before we move on and talk about the different coal producing regions in the U.S. It's important because coal regions' economics are different based on the characteristics. The outlook is different for the various coal regions. The characteristics will help us understand why Walter Energy (WLT) is having a hard time while Cloud Peak Energy (CLD) is in better position.
We'll discuss the characteristics of coal in the next part of the series.