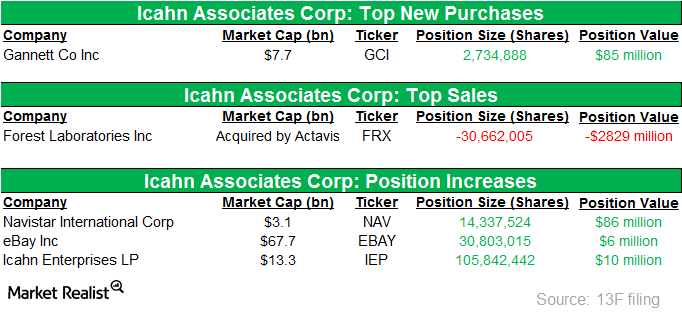 Must-know: Icahn Associates' 2Q14 positions
By Samantha Nielson

Oct. 29 2019, Updated 8:10 p.m. ET
Icahn Associates' 2Q14 positions
Carl Icahn is one of Wall Street's most influential investors. He disclosed Icahn Associates Corp.'s 2Q14 positions through a 13F filing last month. The size of the U.S. long portfolio increased to $38.5 billion. It was $32.9 billion last quarter. The table following outlines Icahn Associates' main positions.
Its only buy in the second quarter was Gannett Co. (GCI). Recent reports noted that Icahn revealed an activist stake in Gannett in mid-August through a 13D filing. The filing disclosed that Icahn owns a 6.63% stake in Gannett. The shares could see value by splitting the media company into separate print and broadcast companies. The fund's largest sell out was $2.829 billion worth of shares in Forest Laboratories Inc. (FRX). It was acquired by Actavis (or ACT) this year.
Icahn raised its positions slightly in Navistar International Corp. (NAV), eBay Inc. (EBAY), and Icahn Enterprises (IEP).
The hedge fund also revealed an activist position in Hertz Global Holdings (or HTZ) in the current quarter through a 13D filing. The details are discussed in the third part of this series.
Article continues below advertisement