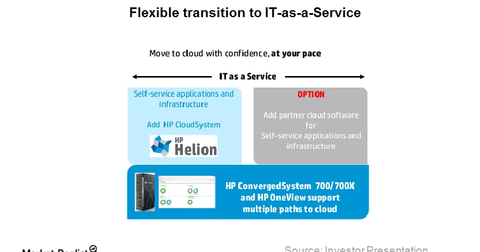 Must-know: HP Helion launched to tap the cloud space
By Anne Shields

Sep. 5 2014, Updated 4:00 p.m. ET
SMAC is challenging business strategy adopted by technology players
The advent and adoption of social, mobile, analytics and cloud (or SMAC) is changing the IT environment. It's urging organizations to transform their strategy in order to stay competitive. In 2014, Hewlett-Packard (or HP) (HPQ)—like its peers, IBM (IBM) and Microsoft (MSFT)—announced its plans to invest more than $1 billion over the next two years into cloud-related products, solutions, and initiatives.
Article continues below advertisement
Existing data centers find it challenging to adopt new processes, products, or new business models. The International Data Corporation (or IDC) states that the server market is transitioning from a PC centric model to a mobile and cloud-based model. According to its restructuring plan, HP has shifted its focus to cloud space. It launched HP Helion—a new brand of cloud computing products.
Any positive news about the company will likely benefit the SPDR MFS Systematic Value Equity ETF (SYV) and the SPDR MFS Systematic Core Equity ETF (SYE).

The above chart shows HP's offerings in the cloud space.
HP Helion
HP Helion is a portfolio of cloud products and services. It enables the integration of private, public, and hybrid cloud information in an open and secure manner. It's an open network. It was developed to create a secure hybrid IT environment that addresses local and global requirements.
HP Helion OpenStack
OpenStack—backed by HP, IBM, Cisco, Intel, and NetApp—is an open source software framework. It builds and manages cloud computing platforms for public and private clouds. By adding Openstack to its network, HP Helion offers:
• HP Helion Development Platform—a Platform as a Service (or PaaS) offering
• HP's OpenStack Technology Indemnification Program that protects customers from third-party patent, copyright, and trade-secret infringement claims
• HP Helion OpenStack Professional Services—a consulting service offered by HP's team of consultants, engineers, and cloud technologists
• HP Helion Managed Storage—a cloud storage offering powered by HP 3PAR StoreServ Storage and HP Store Once Backup systems
Economical version of HP Helion
In August 2014, HP unveiled Helion Managed Virtual Private Cloud Lean (or VPC)—a managed Infrastructure as a Service (or IaaS) solution. It's targeted towards mid-sized and enterprise-level businesses. It supports their lighter workloads. Helion managed VPC provides regionalized cloud for data sovereignty, low latency, compliance, high availability, and security at a cost of $168 a month.
In the virtualization space, HP launched OpenNFV—a comprehensive network function virtualization program. It enables telecommunications companies to offer customers faster services at lower costs and lower risk levels. It gives HP an opportunity to tap into the telecommunications industry.