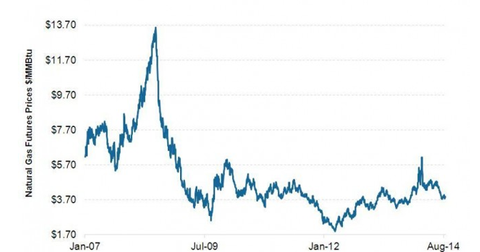 Must-know: An explanation for weak natural gas prices
By Keisha Bandz

Sep. 3 2014, Updated 12:00 p.m. ET
Prices aren't always this low
Since the beginning of 2014, natural gas prices have averaged $4.48 million British thermal units (or MMBtu). This is significantly lower than the record high of ~$13.5 per MMBtu seen in March 2008.
In 2012, prices dropped to as low as $2 MMBtu. Although they have recovered, prices remain low compared to the 2008 levels.
Weak prices hurt the margins of gas-weighted companies like Chesapeake Energy (CHK), Cabot Oil and Gas (COG), Quicksilver Resources (KWK), and EOG Resources (EOG). Most of these companies are components of the Energy Select Sector SPDR ETF (XLE).
Shale boom has depressed prices
Shale gas and new technologies have been discovered for hydraulic fracturing and horizontal drilling. This has caused a significant amount of natural gas supply for the market.
High amounts of natural gas supply weren't met by stronger consumption levels. This has depressed natural gas prices. However, strong demand prospects could give producers hope.
Power generating companies
According to the U.S. Energy Information Administration (or EIA), the demand for natural gas as source of electricity will increase gradually in the coming years. Natural gas will continue to replace coal.
The main concern related to coal is global warming. It's caused by greenhouse gas (or GHG) emission. Companies will likely switch to natural gas because of increasing environmental pressure.
Industrial and residential sectors
Lower priced natural gas is a cost advantage for industrial and residential sectors. The industrial sector will likely increase consumption to tap into this advantage. This won't be available outside North America.
According to the EIA's Annual Energy Outlook 2014, the U.S. industrial sector's natural gas consumption is expected to increase from ~8.7 quadrillion British thermal units (or Btu) in 2012 to 10.6 quadrillion Btu in 2025—an increase of ~22%.
Exports
Article continues below advertisement
Liquefied natural gas (or LNG) exports from the lower 48 states are expected to increase natural gas demand. The first LNG facility is expected to come on line in 2015. The EIA expects that the U.S. is positioned to transition from being a net importer of 1.5 trillion cubic feet (or tcf) of natural gas in 2012 to a net exporter of 5.8 tcf in 2040.
In the near term, prospects for natural gas prices will be firmly linked to the weather. The EIA expects stockpiles to total 3,463 billion cubic feet (or bcf)—the lowest start to the peak heating season since 2008.
A winter as severe as the last will be bullish for natural gas prices.