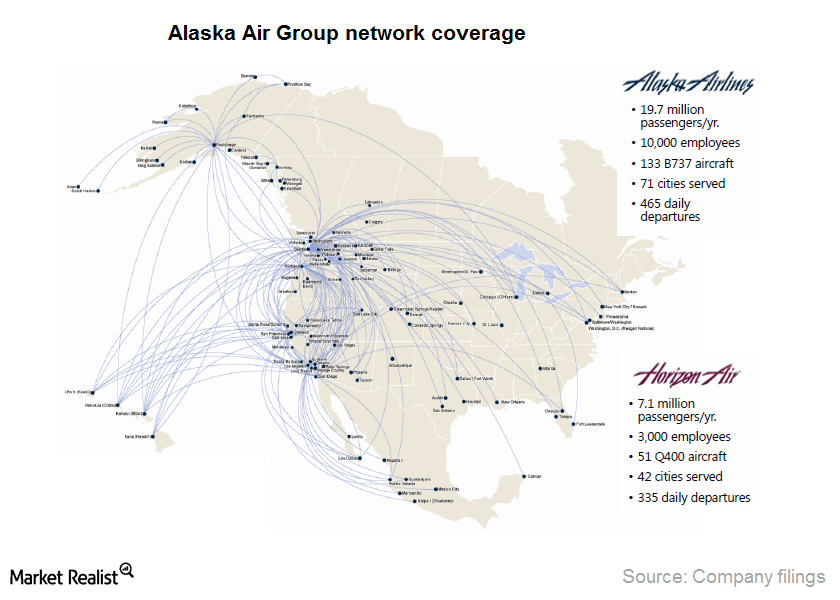 Must-know: Alaska Airlines' operations
By Teresa Cederholm

Sep. 17 2014, Updated 9:14 a.m. ET
Company overview 
Alaska Air Group was incorporated in Delaware in 1985. It's a holding company of Alaska Airlines and Horizon Air. It's the seventh largest U.S. carrier. Alaska Air Group provides passenger and cargo transportation services. It's one of the top ten airlines. It accounts for ~85% of the domestic market share by revenue passenger mile (or RPM). Along with its regional partners, the group serves 100 cities in Alaska, the Lower 48, Hawaii, Canada, and Mexico. In 2013, it served 27 million passengers. It had an average of 833 daily flights. It had a capacity of 33,600 million available seat miles (or ASM).
Article continues below advertisement
Alaska Airlines was started in 1932. It was called McGee Airways. It only had a three-passenger Stinson. It grew to become the largest airline in Alaska. It increased to 22 aircraft after it merged with Star Air Service. The airline was named Alaska Airlines in 1944. In 1972, the board changed the management when the airline's financial position weakened.
In 1979, when the U.S. airline industry headed towards deregulation, the airline only served ten cities in Alaska and one in Seattle. It operated ten aircraft. After deregulation, its network expanded. Its revenue and profits also increased. In 1985, Alaska Air Group was formed as a holding company. It acquired Horizon Air and Jet America Airlines the next year.
Alaska quickly streamlined its cost-structure and increased its aircraft utilization. It did this to match the emerging low-cost carriers' efficiencies in the 1990s. It continued to expand its operations.
Alaska has added 102 new routes since 2007. Today, it's the seventh largest airline in America by domestic RPM. For the year ending May 2014, market share by domestic RPM for Delta (DAL) was 16.5%. Southwest (LUV) was 16%. United (UAL) was 15.5%. American (AAL) was 12.6%. U.S. Airways was 8.5%. JetBlue (or JBLU) was 5.1%. Alaska (ALK) was 4.2%.
Recent achievements
Alaska was ranked first in customer satisfaction among all traditional carriers for the sixth consecutive year by J.D. Power and Associates
Alaska has been the industry leader for on-time performance for the past four years
It reported its tenth consecutive annual profit on an adjusted basis in 2013
It achieved an after-tax return on invested capital of 13.6%—exceeding the 10% goal for the fourth consecutive year
Standard & Poor's upgraded its credit rating to BB+ from BB
Click here to learn more about the airline industry.