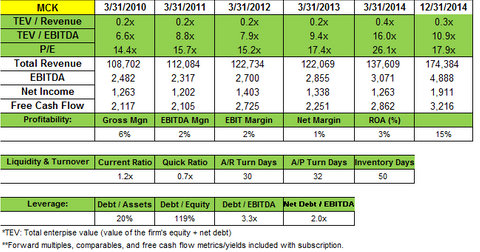 Maverick Capital initiates new position in drug distributor McKesson
By Samantha Nielson

Updated
Maverick Capital's new positions
Lee Ainslie's Maverick Capital added positions in Dollar General Corp. (DG), McKesson Corp. (MCK), Allison Transmission Holdings (ALSN), AbbVie Inc. (ABBV), and Sabre Corp. (SABR). The fund's notable exits during the quarter included Capital One Financial (COF), Catamaran Corp. (CTRX), Citrix Systems (CTXS), and Monsanto (MON).
Maverick Capital added a significant new position in McKesson Corp. (MCK), which accounts for 4.60% of the fund's second quarter portfolio.
McKesson overview
McKesson, which has a market cap of ~$45 billion, delivers pharmaceuticals, medical supplies, and healthcare information technology services. It operates in two segments:
Article continues below advertisement
The McKesson distribution solutions segment distributes ethical and proprietary drugs and equipment, and health and beauty care products throughout North America and internationally. This segment accounted for 98% of McKesson's revenue in fiscal year 2014.
The McKesson technology solutions segment includes McKesson health solutions, which includes the InterQual clinical criteria solution, claims payment solutions, and network performance tools.
McKesson posted revenues of $137.6 billion for the fiscal year 2014 compared to $122.1 billion a year ago. The company said that market growth drove its 13% revenue increase, which reflects growing drug utilization and price increases, acquisitions of Celesio AG and PSS World Medical, and its mix of business.
McKesson revenue up 37% and profit down 5%
McKesson's fiscal 1Q15 results beat estimates. Revenues for the first quarter ended June 30, 2014, were $44.1 billion, up 37% compared to $32.2 billion a year ago. GAAP earnings per diluted share from continuing operations was down to $1.78, compared to $1.84 a year ago. The earnings reflected a pre-tax charge of $34 million related to the reclassification of a portion of the company's international technology business.
Distribution solutions revenue increases 38% and technology solutions revenue declines
The company's distribution solutions revenues were $43.3 billion, up 38% for the quarter on a constant currency basis, mainly as a result of the contribution from the acquisition of Celesio and market growth.
Germany-based Celesio is an international wholesale and retail company and a provider of logistics and services to the pharmaceutical and healthcare sectors. On February 6, 2014, McKesson completed the acquisition of 77.6% of the then outstanding common shares of Celesio and certain convertible bonds for a cash consideration of $4.5 billion.
Technology Solutions revenues decreased 8% primarily due to a decline in software product revenues and the planned elimination of a product line.
McKesson sees lawsuit from Magnetar Financial
News reports in May noted that hedge fund Magnetar Financial launched a lawsuit that alleged McKesson violated German law by offering a higher price to activist investor and Celesio shareholder Elliott Management Corp. for the takeover of Celesio.
Magnetar claimed that McKesson paid convertible bond holders such as Elliott Management around 31 euros per underlying share, while it only offered minority shareholders 23.50 euros a share. McKesson's latest quarterly filing said that it has not yet responded to the complaint.
McKesson raises full year guidance
As a result of strong quarterly earnings, McKesson said it is raising its previous outlook and now expects adjusted EPS from continuing operations of $10.50 to $10.90 for the fiscal year ending March 31, 2015. During the quarter, McKesson said it paid $59 million in dividends.