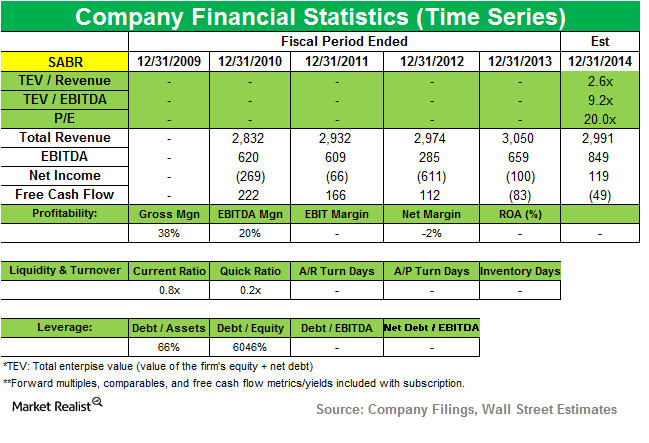 Maverick Capital establishes position in Sabre Corporation
By Samantha Nielson

Sep. 29 2014, Updated 9:00 a.m. ET
Maverick Capital's new positions
Lee Ainslie's Maverick Capital added positions in Dollar General Corp. (DG), McKesson Corp. (MCK), Allison Transmission Holdings (ALSN), AbbVie Inc. (ABBV), and Sabre Corp. (SABR). The fund's notable exits during the quarter included Capital One Financial (COF), Catamaran Corp. (CTRX), Citrix Systems (CTXS), and Monsanto (MON).
Maverick Capital added a new position in Sabre Corp. (SABR), which accounts for 1.85% of the fund's second quarter portfolio.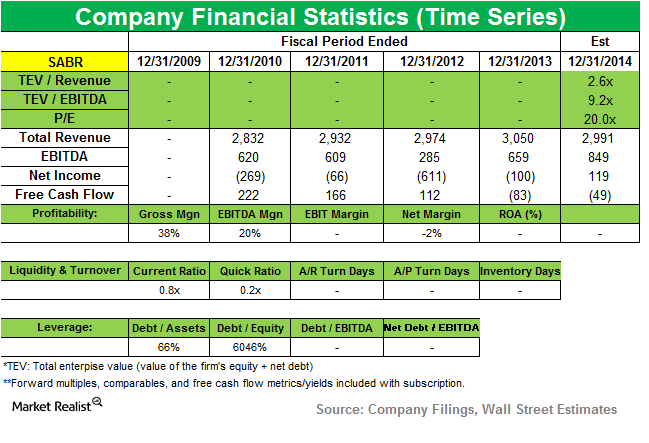 Sabre overview
Article continues below advertisement
With its headquarters in Southlake, Texas, Sabre is a technology solutions provider to the global travel and tourism industry. It offers a broad range of technology solutions, including data-driven business intelligence, and distribution and software solutions. The company sells its products to travel suppliers like airlines, hotels, car rental outlets, railways, cruise lines and tour operators, as well as travel buyers like travel agencies, travel management companies, and corporate travel departments.
Sabre raises $673 million via IPO in April
Sabre, which completed an IPO (initial public offering) on NASDAQ in April 2014, was taken private in 2007 by TPG Capital and Silver Lake Partners for around $5 billion. The IPO sold for $16 per share and valued Sabre at $3.93 billion. Sabre generated $673 million of net proceeds, which the company used to pay its outstanding debt, including a $320 million reduction in 2019 8.5% bonds, and a $296 million reduction in Term Loan C borrowings.
Sabre said in its IPO prospectus that it is one of the largest global distribution systems (or GDS) providers in the world, with a 36% share of GDS-processed air bookings in 2013. It competes with Amadeus IT Group and Travelport in providing global distribution systems.
Sabre operates through three business segments:
Article continues below advertisement
The travel network segment is a global B2B travel marketplace for travel suppliers and travel buyers.
The airline and hospitality solutions segment offers an extensive suite of leading software solutions primarily for airlines and hotel properties.
The Travelocity segment includes a portfolio of online consumer travel e-commerce businesses through which Sabre provides travel content and booking functionality, primarily for leisure travelers.
Sabre posts decline in revenue and earnings
For 2Q14, Sabre reported total revenue of $718 million, down 7% from $768 million for the second quarter of 2013. Consolidated net loss for the second quarter of 2014 totaled $10.9 million, compared to a net loss of $116.9 million in the corresponding period last year. The company reported adjusted earnings per share of $0.22, which topped estimates, and a loss per share from continuing operations of $0.03.
Travelocity revenue falls 46% due to restructuring 
Sabre posted increases in its travel network and airline and hospitality solutions segments for 2Q14, but Travelocity revenue fell 46% year-over-year. The decrease in revenue resulted primarily from the restructuring of Travelocity business in the U.S. and Canada in connection with a strategic marketing agreement with Expedia.
Sabre initiated plans in the third quarter of 2013 to shift the Travelocity business in the United States and Canada away from a high fixed-cost model to a lower-cost, performance-based revenue structure.
Under the August 2013 agreement, Expedia will power the technology platforms for Travelocity's existing U.S. and Canadian websites as well as provide Travelocity with access to Expedia's supply and customer service platforms.
Article continues below advertisement
With the migration essentially complete, Sabre said that costs declined through the second quarter, but the timing of the transition led to a decline in the segment's adjusted EBITDA (earnings before interest, tax, depreciation, and amortization) to a loss of $9 million. Sabre said it expects "stronger business performance and increasing profitability" going forward.
Sabre is exploring strategic options for lastminute.com
In addition, Sabre's revenue decreased $34 million due to the sale of both Travelocity's TPN business in February 2014 and TBiz in June 2013. Sabre recently said it is exploring strategic options, including a potential sale, for its lastminute.com business unit, which is the European portion of the Travelocity business.
Sabre acquires Genares to enhance technology offerings
Sabre also announced the acquisition of Genares, a global, privately-held hospitality technology company. It said the acquisition will further strengthen its position as a leading technology partner to hoteliers worldwide.
Genares provides central reservations systems (or CRS), revenue management, and hotel marketing solutions to more than 2,300 independent and chain hotel properties. Sabre said in its IPO prospectus that it believes its hospitality solutions business is the leader in hotel reservations, handling 27% of third-party hospitality CRS hotel rooms through its GDS in 2013.