Iron ore and coal shipping: The China effect
By Katie Dale

Sep. 30 2014, Updated 1:00 p.m. ET
China's economic health influences iron ore and coal imports

As the world's top iron ore and coal consumer, China also drives shipping rates to a considerable extent. China imports almost 60% of the world's seaborne iron ore, and its coal trade accounts for almost a quarter of all coal trade globally. In 2013, China imported 820 million tons and 330 million tons of iron ore and coal, respectively.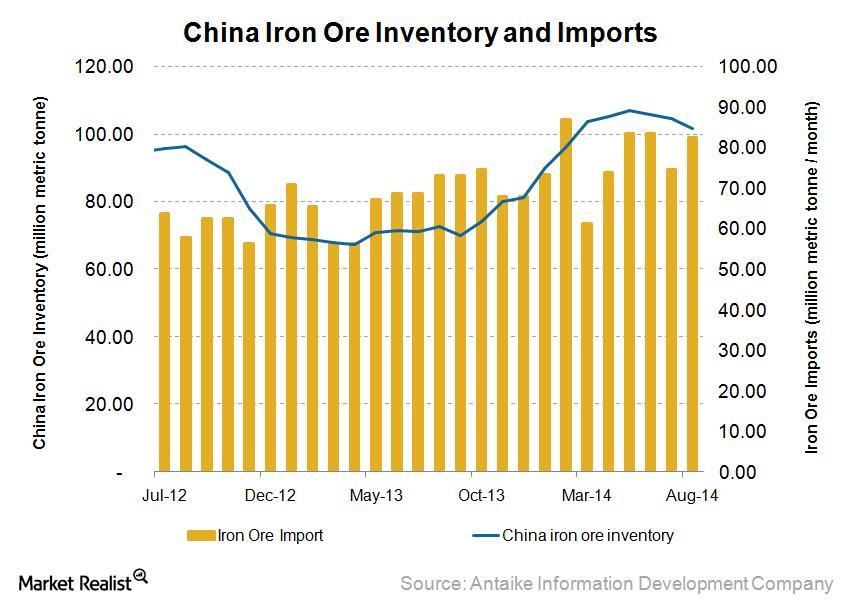 Iron ore and coal each account for nearly 30% of the world's dry bulk trade volume. Import data tell us about China's economic health and its demand for higher quality imported commodities. When import levels of iron ore and coal imports are up, demand is high and shipping rates rise. This is fundamentally positive news for the Guggenheim Shipping ETF (SEA) and dry bulk shippers that transport dry bulk materials such as iron ore, coal, and grain across the ocean. Some examples of these shippers include DryShips Inc. (DRYS), Diana Shipping Inc. (DSX), Navios Maritime Holdings Inc. (NM), and Safe Bulkers Inc. (SB).
August dip in iron ore imports
In August, China's iron ore imports declined by over 9% to a two-month low of 74.88 million tons, compared to the previous month, as weakening steel demand clashed with a flood of supply.
Iron ore prices are trading near five-year lows—recording a 38% drop this year, and the demand outlook remains murky.  Major Chinese steel mills are now slashing output to cope with swollen inventories and poor sales.
Coal imports
Article continues below advertisement
Also in August, China's coal imports—accounting for a quarter of the global coal trade—slumped to 18.86 million tons, the lowest level since September 2012. Coal consumption in the country has been hit by a combination of slower economic growth, an increased use of hydropower, and Beijing's fight against pollution. Local prices are now at a six-year low.
Domestic coal mines in China are growing, raising fears that Beijing may bring in policies to restrict coal imports with high ash and high sulfur content. If this were to happen, a continued decline in imports could be expected.
Even though iron ore and coal imports were down, steel producers haven't reduced steel production.  Let's look at this in closer detail next.