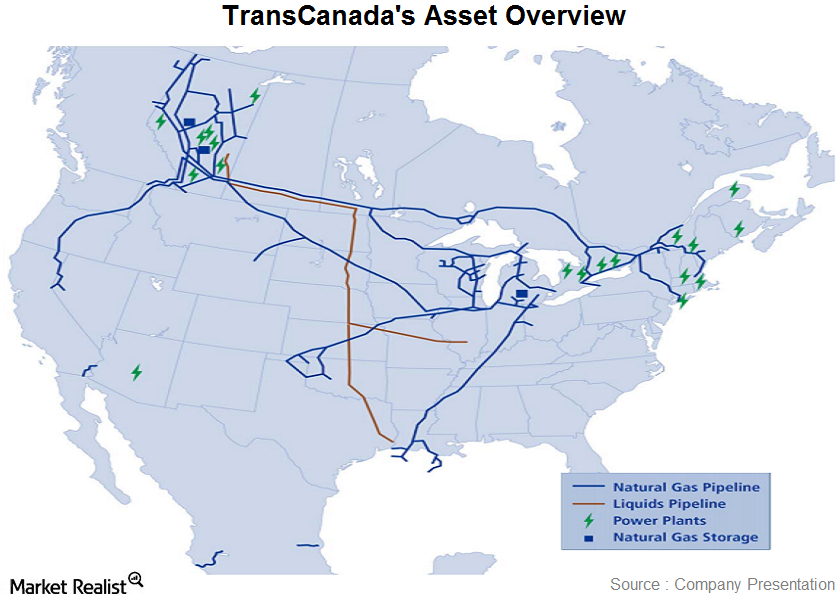 An introduction to TransCanada Corp.
By Keisha Bandz

Nov. 20 2020, Updated 12:58 p.m. ET
TransCanada Corp.
TransCanada Corporation is an energy infrastructure company. It owns a network of natural gas and crude pipelines across North America. TransCanada also provides natural gas storage and related services.
Business segments
The company operates its business in three segments—Natural Gas Pipelines, Oil Pipelines, and Energy.
Article continues below advertisement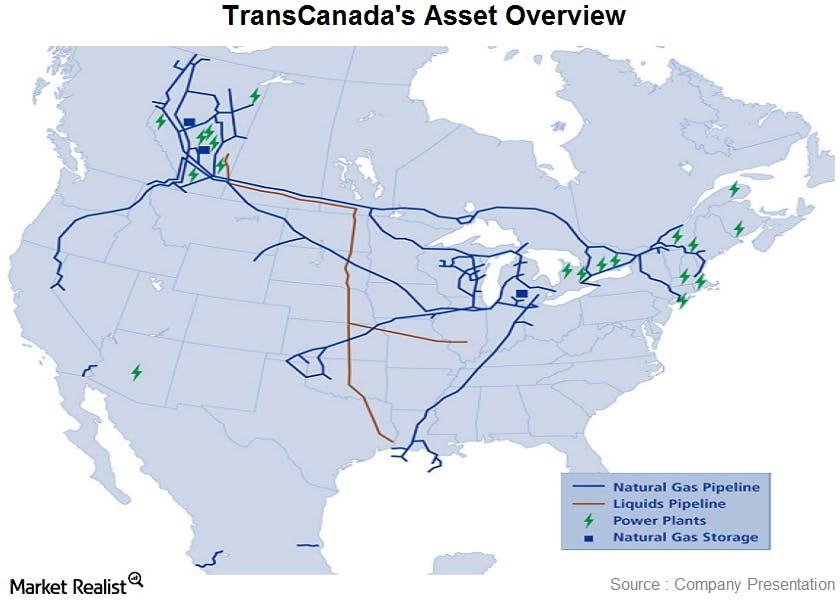 TRP's oil and natural gas pipelines span across the U.S. and Canada. Its energy segment consists of electrical power generation plants. The energy segment has the majority of its operations in Canada.
We'll be discussing TRP's businesses in greater detail in the following parts of this series.
Asset overview
According to a company presentation, TRP owns total assets worth ~$55 billion. TRP also has one of the largest natural gas pipeline networks in North America—with 42,500 miles of pipeline.
It's the third largest natural gas storage operator in North America. It has a storage capacity of 406 billion cubic feet (or bcf). TRP is the largest private sector power generator in Canada. It has 19 power plants spread across the U.S. and Canada. The power plants have a total capacity of 10,800 megawatts (or MW).
TRP also owns the Keystone crude oil pipeline system. The Keystone crude oil pipeline system is a 2,639 mile pipeline. It transports "almost one-quarter of Canada's crude oil exports to the U.S.," according to the annual 10K report. Since January 2014, the system also includes a Gulf Coast extension. The extension transports crude oil from Cushing, Oklahoma to refineries on the Gulf Coast.
We'll discuss TRP's significant assets in more detail throughout the series.
Key subsidiaries and exchange-traded funds (or ETFs)
TC PipeLines LP (TCP) is a key subsidiary of TRP. TCP is a master limited partnership (or MLP). It operates in the midstream energy sector. TRP owns general partner interest in TCP.
Read more about TCP's association with TRP here.
TCP is a component of the Global X MLP ETF (MLPA). TRP is also a component of the Alerian Energy Infrastructure ETF (ENFR) and the First Trust North American Energy Infrastructure Fund (EMLP).
In the next part of the series, we'll discuss TRP's size and scope compared to its peers.