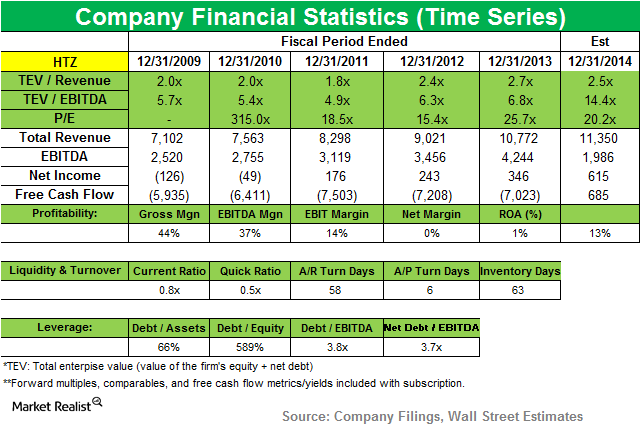 Why Icahn reveals activist position in Hertz Global Holdings
By Samantha Nielson

Nov. 7 2019, Updated 7:38 p.m. ET
Icahn Associates and Hertz Global Holdings
Icahn Associates recently disclosed an activist position in rental car company Hertz Global Holdings (HTZ). The fund took an 8.48% stake in Hertz. It was disclosed in a 13D filing on August 20.
Hertz operates its car rental business through the Hertz, Dollar Thrifty, and Firefly brands. It has ~11,555 corporate and franchisee locations in North America, Europe, Latin and South America, Asia, Australia, Africa, the Middle East, and New Zealand. Its Dollar and Thrifty brands have ~1,400 corporate and franchisee locations in ~75 countries. The Firefly brand has ~65 corporate and franchisee locations in seven countries.
Hertz has owned an equipment rental business since 1965. Hertz owns Donlen Corp. It's a fleet leasing and management business. It's based in Northbrook, Illinois.
Article continues below advertisement
Hertz's annual filing said revenues have grown at a compound annual growth rate (or CAGR) of 6.9% over the last 20 years. It has had year-over-year (or YoY) growth in 17 of those 20 years. Its competitors in the car rental space include Avis Budget Group Inc. (CAR) and the privately held Enterprise Rent-A-Car and Uber.
Icahn discloses activist position
The filing said that the Hertz shares were undervalued. Icahn plans to hold discussions with the management and board. The discussions will focus on Hertz's "shareholder value, accounting issues, operational failures, underperformance relative to peers, and a lack of confidence in management." Icahn also revealed its intention to seek shareholder board representation if necessary.
Shares fall on accounting issues 
The company's shares decreased in June because of certain accounting issues. As a result, its 1Q14 results announcement was delayed. The announcement had been scheduled for June 9.
Hertz said in an 8-K filing in June that it will restate three years of financials to fix ~$46.3 million worth of errors in its 2011 statements. The filing added "During the preparation of the First Quarter 10-Q, errors were identified relating to Hertz's conclusions regarding the capitalization and timing of depreciation for certain non-fleet assets, allowances for doubtful accounts in Brazil, as well as other items." The filing also said that, "the financial statements for 2011 should no longer be relied upon, and Hertz must restate them. Hertz also needs to correct the 2012 and 2013 financial statements to reflect these errors."
The company also stated that first quarter results will be delayed. The results will come in below street estimates.
2014 financial guidance withdrawn

Last month, Hertz said that it delayed filing its second quarter financial results. Hertz delayed the filing because it's still reviewing the accounting errors.
Article continues below advertisement
In an 8-K filing in mid-August, Hertz said it expects to be below the low end of its 2014 guidance "due to operational challenges in the rental car and equipment segments as well as the associated costs related to the accounting review previously disclosed." The challenges mentioned by the company include:
Record level, industry-wide OEM vehicle recall activity has constrained the company's U.S. fleet available for rentals. Hertz said that while the demand for rental cars in 2Q14 was trending ahead of plan, transaction days were tempered by already tight fleets. The fleets were tight because of OEM recall activity. This limited the company's ability to convert demand into transaction days. Automakers like Chrysler, General Motors, Nissan, Mazda, Hyundai, and Volkswagen have recalled vehicles over safety issues. According to reports, 46 million cars have been recalled in the U.S. this year.
Significantly higher-than-expected adjusted direct operating expense in U.S. rental car business.
Issues and delays associated with the installation of Hertz's Enterprise Resource Planning (or ERP) and counter systems. These have adversely impacted anticipated synergy capture flowing from the Dollar Thrifty acquisition.
Continued soft demand in the equipment rental business segment.
Hertz said it's withdrawing its 2014 financial guidance.
Separation of equipment rental business could be delayed
In March 2014, Hertz announced that its board approved plans to separate its equipment rental businesses. Hertz Equipment Rental Corporation (or HERC) and Hertz—including Dollar, Thrifty, Firefly, and Donlen—will be separated into two independent, publicly-traded companies by early 2015. The separation will be in the form of a pro-rata tax-free spinoff to shareholders. Recently, Hertz said the efforts to resolve the various accounting matters could push the timing of the actual separation beyond the first quarter of 2015.
HERC rents a broad range of equipment. Its equipment includes aerial manlifts, air compressors and tools, earthmoving equipment and power generators, forklifts and material handling, pumps, and trucks and trailers. The business also gets revenues from the sale of new and used equipment and consumables. An example is the Hertz Entertainment Services division. It rents lighting and related aerial products. The rentals are mainly used in the U.S. entertainment industry. The equipment rental business competes with companies like United Rentals (URI), Aggreko (ARGKF) and Caterpillar Inc. (CAT).