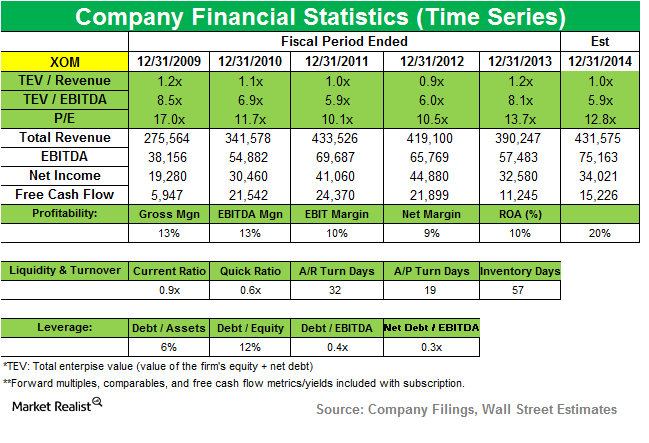 Must-know: Highfields Capital exits a position in Exxon Mobil
Highfields Capital Management
Jonathon Jacobson's Highfields Capital Management added new positions in Hertz Global Holdings (HTZ), Eli Lilly and Company (LLY), and Goldman Sachs Group (GS). It sold positions in Exxon Mobil (XOM) and Tesla Motors (TSLA).
Highfields Capital exited a position in Exxon Mobil that accounted for 1.67% of the fund's 1Q14 (or the first quarter of 2014) portfolio.
Exxon Mobil overview
Exxon Mobil, based in Irving, Texas, engages in exploring and producing oil and natural gas. It manufactures petroleum products. It also transports and sells crude oil, natural gas, and petroleum products.
XOM's operations are divided in three segments—upstream, downstream, and petrochemicals.
Exxon Mobil sees production decline in 2Q14
Exxon Mobil posted earnings and revenue above analyst expectations in its latest results for 2Q14. It reported $111.6 billion in total revenues—up 4.7% from $106.6 billion recorded in 2Q13. It said its results were "achieved through strong operational performance and portfolio management."
Its earnings of $8,780 million increased $1,920 million, or 28%, from 2Q13. Revenues and net income improved due to higher price realization in XOM's upstream operations, higher volume and better production mix in downstream operations, and slightly better volume and mix in the chemicals segment.
Oil-equivalent production falls
The company said for the first half, its cash flow from operations and asset sales was $29 billion. This included proceeds associated with asset sales of $3.7 billion.
But its oil-equivalent production decreased 5.7% from 2Q13. This was due to the expiry of the Abu Dhabi onshore concession. Liquids and natural gas production also declined.
Downstream earnings rose to $711 million, but weaker refining margins trimmed earnings by $330 million.
For more on Exxon Mobil's earnings, please read Must-know: An Overview of ExxonMobil's 2Q14 earnings.
Exxon Mobil winds down Kara Sea operations in the Russian Arctic
Exxon Mobil also said recently that it's winding down operations on its platform in Russia's Kara Sea continental shelf zone. Reports said it has started shutting down its $700-million joint venture with Russian energy giant Rosneft OAO in compliance with U.S. sanctions.
Rosneft's website stated that the Kara Sea is an extension of the West Siberian oil and gas province, which accounts for 60% of Russia's current oil production.
A September report from Bloomberg said that the latest sanctions over Ukraine will disallow U.S. and European cooperation in exploring Russia's Arctic, deep seas, or shale formations for crude. The report added that this would impact companies such as Exxon, BP, and Shell.
For more on BP and its peers, please read A must-know guide to BP and the recent Deepwater Horizon ruling.
In the next part of this series, we'll discuss Highfields' exit from its position in Tesla Motors.
Article continues below advertisement