Why Facebook is managing strong digital ad growth
By Puneet Sikka

Sep. 23 2014, Updated 4:44 p.m. ET
Facebook has emerged as a strong player in the digital advertising market
In the previous part of this series, we discussed how Google (GOOG)(GOOGL) is able maintain its leadership position in the worldwide digital advertising market with a share of more than 30%. We discussed that mobile search and YouTube are the main growth areas for Google, due to which the company has managed to maintain its market share.
But Facebook (FB) has emerged as a strong player in this market and could double its share in this market from 4% in 2012 to about 8% in 2014, according to the report from eMarketer.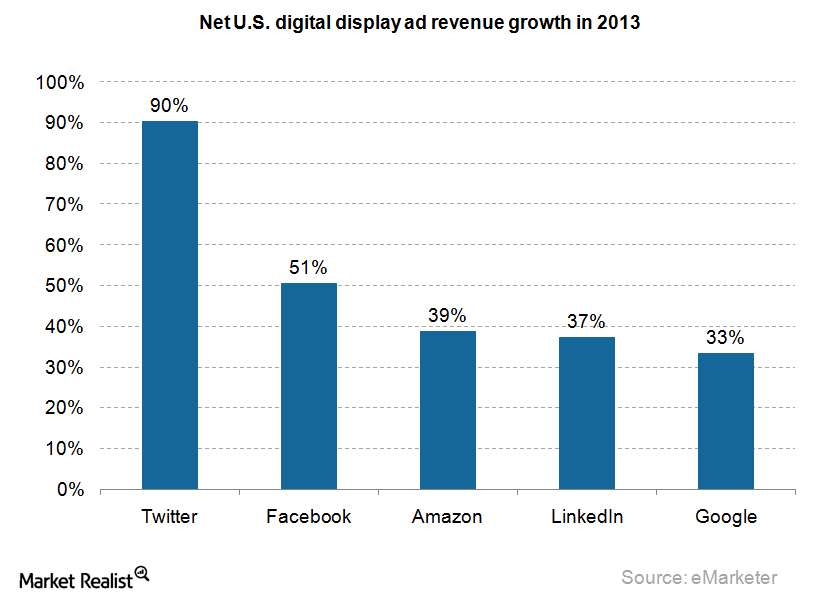 Facebook's growing its display ad revenues much faster than Google
Article continues below advertisement
The main reason why Facebook has been able to grow its market share is the strong advertising revenue growth that it has experienced in the last few years. According to another report from eMarketer and as the chart above shows, Facebook's digital display ad revenues in the U.S. increased by 51% in 2013, compared to 39% for Amazon (AMZN), 37% for LinkedIn (LNKD), and 33% for Google.
Although Twitter (TWTR) managed to grow its display ad revenues at an even faster rate of 90%, its revenue base is much smaller than Google's or Facebook's. So Twitter isn't a meaningful player in this market currently.
Facebook's primarily becoming a mobile-driven company
When Facebook came up with its IPO about two years ago, it faced criticism for not leveraging mobile growth. But over the last two years, the company has dramatically changed its business model. Mobile ad revenue made up 62% of the company's overall ad revenue in the second quarter of 2014 compared to 41% of overall ad revenue in the corresponding quarter a year ago. In the last quarter, ad revenues from mobile devices for Facebook increased 151% year-over-year. This was more than double the company's overall advertising revenue growth.
Overall, the mobile display market is expected to grow at a year-over-year growth rate of 87% in 2014 compared to a slow growth rate of 3% in the desktop display market, according to eMarketer. This explains why the mobile platform is becoming an important growth area for Internet companies.