Why Facebook and Google dominate in terms of mobile app use
By Puneet Sikka

Sep. 29 2014, Updated 4:30 p.m. ET
Facebook and Google apps take up seven of the top eight positions in terms of unique visitors
In the previous part of this series, we discussed why people are spending more time on mobile apps compared to mobile browsers or desktops. But within the world of mobile apps, Facebook (FB) and Google (GOOG)(GOOGL) apps dominate mobile usage. According to a report from comScore Mobile Metrix and as the chart below shows, Facebook leads the mobile apps market in the U.S. with 115 million unique visitors.
Article continues below advertisement
Google's constellation of apps—which includes YouTube, Google Play, Google Search, Google Maps, and Gmail—takes up five of the next six positions in this market. Instagram, which Facebook owns, takes the eighth position. In between, we have Pandora's (P) Radio app, while the Apple (AAPL) Maps and Yahoo (YHOO) Stocks apps takes the ninth and tenth positions, respectively, in this market.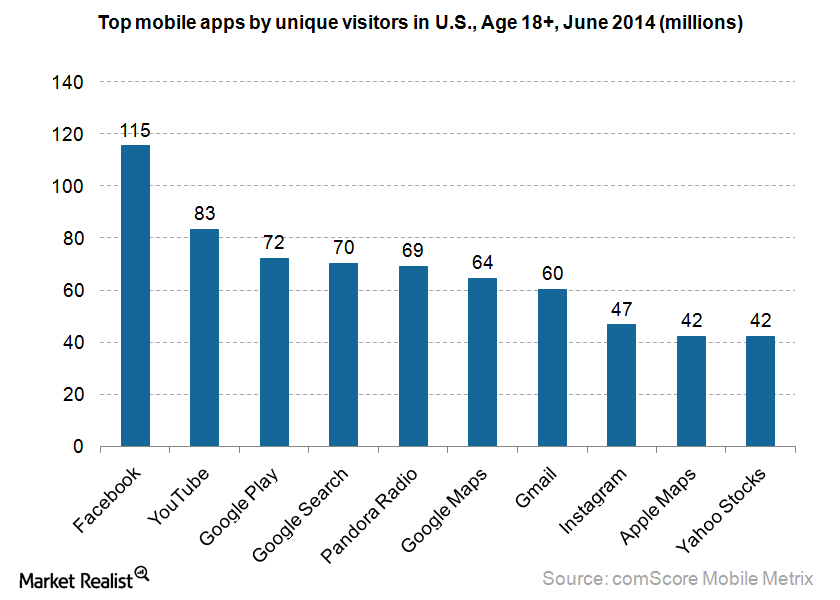 Why Google apps dominate the mobile app market
Facebook topped the list of most used mobile apps mainly due to its popularity. It has attracted 1.3 billion monthly active users across the world. But Google dominates this market for a different reason. All Google apps are available by default on the Android smartphone platform. Making these apps defaults on devices makes users use them more often.
Plus, Android dominates the smartphone operating system market, as we discussed in the Market Realist article titled Why Google's Android keeps dominating the smartphone OS market. This explains why Google dominates the top-used mobile apps and Apple's lone app Apple Maps languishes behind at ninth position.