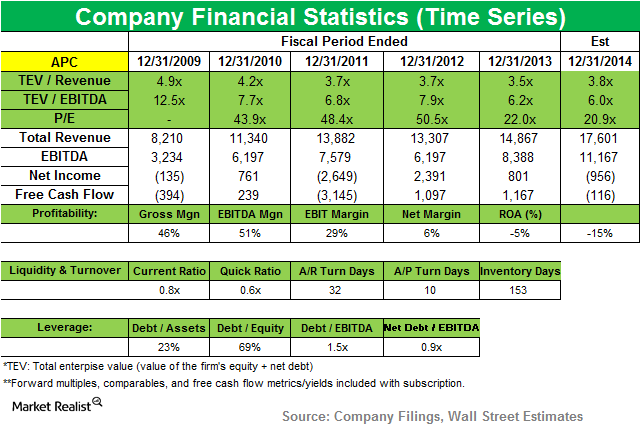 Must-know: Elliott Management ups its position in Anadarko
By Samantha Nielson

Sep. 3 2014, Updated 1:00 p.m. ET
Portfolio overview
Elliott Management's new positions in the second quarter of 2014 (or 2Q14) include the newly debuted Opus Bank (OPB), Iron Mountain (IRM), and Mallinckrodt plc (MNK). The fund exited a position in Hornbeck Offshore Services (HOS). The fund upped its stakes in Anadarko Petroleum (APC) and Williams Companies (WMB).
Elliott Management's position in Anadarko Petroleum is currently the third largest and accounts for 7.97% of the fund's 2Q14 portfolio. The position accounted for 0.85% of the 1Q14 portfolio.
Anadarko Petroleum overview
Article continues below advertisement
Anadarko Petroleum is engaged in exploring and producing oil and natural gas. The company's three operating segments are oil and gas exploration and production, midstream, and marketing. Anadarko has production and exploration activities worldwide, including activities in the U.S., Algeria, Mozambique, Ghana, Brazil, Kenya, Côte d'Ivoire, Liberia, Sierra Leone, New Zealand, Colombia, and South Africa.
The company's Wattenberg Horizontal program in Colorado, Eagleford Shale development in south Texas, and other liquids-rich growth plays—including the Wolfcamp Shale in the west Texas, east Texas, and north Louisiana area—are expected to drive its U.S. onshore growth.
Anadarko enters settlement agreement over Tronox Adversary Proceeding
Anadarko entered into the Tronox settlement agreement in April with Litigation Trust and the U.S. government. It agreed to pay a penalty of $5.15 billion to settle all claims against Kerr-McGee. In May 2014, the U.S. Bankruptcy Court recommended approving the settlement agreement.
Anadarko's share price suffered in the previous months over the potential damages stemming from the lawsuit. The District Court must approve the settlement agreement, which the company expects to occur during the second half of 2014.
Anadarko said it expected the impact of the settlement agreement to be reflected in its 1Q14 financial statements. It estimated it'll record a gross tax benefit of approximately $1.65 billion associated with the settlement, offset by approximately $1.1 billion in uncertain tax positions and currently resulting in a net tax benefit of approximately $550 million.
In terms of background, Tronox was spun off from Kerr-McGee in 2005. Anadarko acquired Kerr-McGee in 2006. In January 2009, Tronox and some of its subsidiaries filed for bankruptcy. As part of the bankruptcy proceedings, Tronox, along with the U.S. government, filed a lawsuit in 2009 against Kerr-McGee and Anadarko for their fraudulent transfer of billions of dollars of preexisting environmental and tort liabilities.
Anadarko's 2Q14 results top estimates on increased volumes
Article continues below advertisement
Anadarko's 2Q14 results topped estimates with a net income of $227 million, or $0.45 per share, compared to $929 million, or $1.83 per share, for the quarter a year ago. Total revenues increased to $4.44 billion from $3.50 billion in the same quarter last year. Anadarko's 2Q14 sales volumes averaged 848 thousand barrels of oil equivalent per day, representing a 13% increase over 2Q13.
The company's 2Q14 liquids sales volumes averaged 411 thousand barrels per day, representing a 33% increase over 2Q13. This was primarily due to increased sales volumes in the Wattenberg field, the Eagleford Shale, the east Texas and north Louisiana horizontal development, the Delaware Basin, and at El Merk in Algeria.
At the Jubilee field offshore Ghana, cumulative gross oil production surpassed 100 million barrels during the quarter. In the Gulf of Mexico, Anadarko said it's completed all major construction and installation projects at its Lucius development. The 80,000-barrels-of-oil-per-day Lucius spar is expected to achieve first oil on schedule around the beginning of 4Q14. The Heidelberg spar also remains on schedule to achieve first oil in 2016.
Anadarko's management said on the earnings call that the company is raising sales guidance for the full year by an additional five million barrels of oil equivalent at the midpoint. They added that "This represents an almost 10% production growth over last year on a same-store sales basis."
A report in Bloomberg noted that Anadarko is poised to benefit from the recent petroleum laws approved in Mozambique that pave the way for new oil and gas bids and a special tax break for offshore fields operated by Anadarko and Eni SpA (ENI). Anadarko and its partners are advancing a commercial liquefied natural gas (or LNG) development onshore.
Anadarko also approved a 50% increase in the company's quarterly dividend to $0.27 per share.