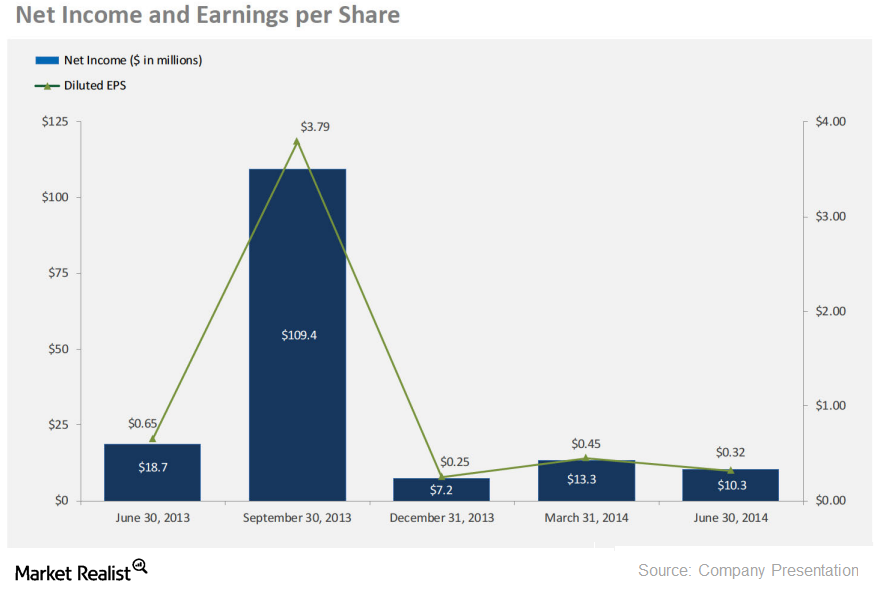 Must-know: Elliott Management's new position in Opus Bank
By Samantha Nielson

Sep. 2 2014, Updated 1:27 p.m. ET
Portfolio overview

Elliott Management's new positions in the second quarter of 2014 (or 2Q14) include the newly debuted Opus Bank (OPB), Iron Mountain (IRM), and Mallinckrodt plc (MNK). The fund exited a position in Hornbeck Offshore Services (HOS). The fund upped its stakes in Anadarko Petroleum (APC) and Williams Companies (WMB).
Elliott took a new position in Opus Bank during the last quarter. The position accounts for 2.12% of the fund's 2Q14 portfolio.
Opus Bank debuts on Nasdaq in April
Article continues below advertisement
Opus Bank is a FDIC (or Federal Deposit Insurance Corporation) insured, California-chartered commercial bank, with over $4 billion in total assets, $3.2 billion in total loans, and $3 billion in total deposits as of March 31, 2014. The bank debuted on the Nasdaq exchange in April and priced its common stock at $30 per share. Total net proceeds from the initial public offering (or IPO) were $76.3 million.
The bank said it intends to use the net proceeds to support its growth in the western U.S. region. It also plans to use the proceeds for general corporate purposes and for making a contribution to the Opus Community Foundation.
Opus Bank's founding
Opus Bank was founded on September 30, 2010, when an investors group—led by its chairman, CEO, and president, Stephen Gordon—completed the acquisition and recapitalization of Bay Cities National Bank. The group then converted the Bay Cities charter from a national bank charter to a California-chartered commercial bank regulated by the FDIC and the California Department of Business Oversight's Division of Financial Institutions (or DBO). Bay Cities National Bank was later renamed Opus Bank.
Article continues below advertisement
Opus has an $882.4 million market cap and is headquartered in Irvine, California. It has 60 banking offices located in major metropolitan markets in Arizona, California, and Washington. Opus' aim is to build a premier regional bank in the western U.S. that provides high value relationship-based banking products, services, and solutions to clients. These clients include small- and mid-sized companies, entrepreneurs, real estate investors, professionals, and consumers.
Through commercial banking, retail banking, merchant banking, and correspondent banking operations, Opus believes it offers a variety of conventional and specialized financial products and services to meet the needs of its clients.
Opus intends to expand its geographic footprint 
In its IPO filing, Opus said it believes that the disruption in its geographic markets caused by the financial crisis and the subsequent impact on lending, deposit activity, and overall banking in the region has created a significant void. This void has created an opportunity for the bank.
For the two-year period ended December 31, 2013, the bank said it achieved
a 82% compound annual non-acquired deposit growth
a 22% compound annual total deposit growth
a 151% compound annual originated loan growth
a 36% compound annual total loan growth
Over the same time period, it didn't experience any losses on loans that it originated. Opus added, "we believe that we can leverage our strong capital position, scalable operating platform and client-centric approach to significantly increase penetration in our current markets, as well as to expand our geographic footprint into other major metropolitan areas in the western United States."
Opus delivers strong 2Q14 results
Article continues below advertisement
Opus' 2Q14 results came above estimates. It posted a 2Q14 net income of $10.3 million, or $0.32 per diluted share, compared to $18.7 million, or $0.65 per diluted share, in 2Q13. Net income declined due to a $2 million decrease in net interest income and a $2.9 million decrease in non-interest income.
Opus said total assets increased to $4.3 billion in 2Q14, driven by a 44% year-over-year loan growth. Returns remained strong, with a 1.2% return on average assets and a 10.3% return on average tangible equity for the first half of 2014.
It saw an increase in loan originations driven by commercial business and specialty banking divisions. It also saw strong deposit growth in its retail branches and specialty divisions. Deposits totaled $3.2 billion as of June 30, 2014, an increase of 37% from $2.3 billion as of June 30, 2013.
Opus said its asset and revenue growth continues to outpace its expense base, which has resulted in an improved efficiency ratio of 56.4% for the six months ended June 30, 2014, compared to 63.3% for the six months ended June 30, 2013. The bank said it's reaping benefits from its ongoing expense management efforts and the scalability of its operating model.