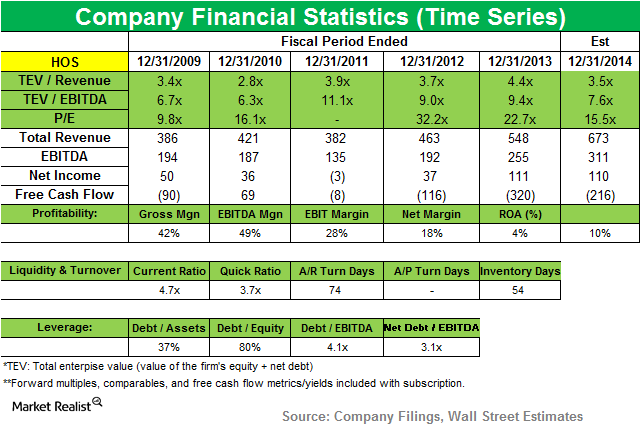 Must-know: Why Elliott Management exited its position in Hornbeck
By Samantha Nielson

Sep. 3 2014, Updated 5:00 p.m. ET
Portfolio overview

Elliott Management's new positions in the second quarter of 2014 (or 2Q14) include the newly debuted Opus Bank (OPB), Iron Mountain (IRM), and Mallinckrodt plc (MNK). The fund exited a position in Hornbeck Offshore Services (HOS). The fund upped its stakes in Anadarko Petroleum (APC) and Williams Companies (WMB).
Elliott's position in Hornbeck Offshore Services accounted for 0.58% of the fund's 1Q14 portfolio. Elliott had initiated the position in 1Q14.
Hornbeck Offshore Services overview
Article continues below advertisement
Hornbeck Offshore Services is a leading provider of marine transportation services to exploration and production, oilfield service, offshore construction, and U.S. military customers. It owns and operates one of the youngest and largest fleets of U.S.-flagged, new-generation offshore supply vessels (or OSVs) and multipurpose supply vessels (or MPSVs).
Since 2007, the company has expanded its new-generation fleet from 25 OSVs focused in the Gulf of Mexico (or the GoM) to 55 OSVs and four MPSVs primarily operating in three core geographic markets: the GoM, Brazil, and Mexico. The company's new-generation OSVs and MPSVs have enhanced capabilities that allow the company to support more effectively the premium drilling equipment required for deep well, deepwater, and ultra-deepwater drilling and to provide specialty services.
1Q14 results came below estimates
A report in Market Realist disclosed Elliott's 1Q14 position in Hornbeck in May. The report also stated that the company's 1Q14 results missed estimates despite the revenue and earnings increases year-over-year. The company also noted that day rates and utilization were also down.
It said that the year-over-year decrease in utilization was primarily due to 223 incremental vessel-days out-of-service for regulatory recertification during 1Q14, compared to the same period the year before. The decrease also resulted from transitory softness for high-spec OSVs operating in the GoM spot market. The soft market conditions were primarily the result of delays in commissioning and activating incremental offshore drilling rigs coupled with the delivery of additional high-spec OSVs into the GoM.
Fleet growth and record MPSV day rates drive 2Q14 results
Article continues below advertisement
Hornbeck Offshore Services' recent 2Q14 results beat estimates. The company recorded a consolidated net income of $31.2 million, or $0.85 per diluted share, compared to $23.8 million, or $0.65 per diluted share, for the quarter a year ago. It said upstream revenue and earnings before interest, tax, depreciation, and amortization (or EBITDA) set new quarterly highs "on the strength of fleet growth and record MPSV dayrates."
Upstream revenue was up 25% to $171.1 million, while upstream EBITDA rose 55% to $84.3 million.
Hornbeck Offshore Services said the full or partial period contribution of 13 vessels that were placed in-service under the company's fifth OSV newbuild program or redelivered under the 200 class OSV retrofit program since June 2013 attributed to the year-over-year increase in upstream revenues. Improved spot market conditions for the company's MPSV fleet also helped upstream revenues.
The remainder of the revenue increase resulted from record average day rates posted by the company's four MPSVs at 100% utilization. The increases were partially offset by a decrease in effective day rates from the company's OSVs.
Hornbeck is optimistic about a gradual GoM market improvement 
Article continues below advertisement
During the first half of 2014, Hornbeck saw transitory softness for high-spec OSVs operating in the GoM spot market, which had an impact on utilization and, to a lesser extent, on the average day rates. It said it was able to mitigate some of the market imbalance by deploying some vessels to international markets and from seasonal construction and development activities underway in the GoM.
High utilization and spot day rates for its MPSV fleet also mitigated the impact of the market softness. For the GoM, Hornbeck believes that the number of offshore drilling rigs forecasted to become active during the remainder of 2014 will stabilize this temporary OSV supply and demand imbalance. Its analysis reveals that by the end of 2014 or early 2015, there may be as many as 50 deepwater drilling units in the GoM. Hornbeck expects this number to increase further during 2015.
As of July 31, 2014, Hornbeck had 61% of its new-generation OSV vessel-days contracted for the remainder of 2014. Its forward OSV contract coverage for the fiscal year ending December 31, 2015, currently stands at 25%. MPSV contract coverage for the remainder of 2014 and for fiscal 2015 is currently 69% and 20%, respectively.