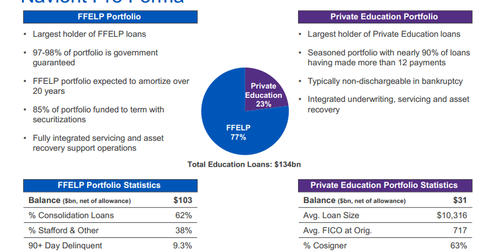 D. E. Shaw adds a new position in Navient
By Samantha Nielson

Sep. 4 2014, Updated 12:25 p.m. ET
D. E. Shaw overview D. E. Shaw added new positions in Navient Corp (NAVI), Applied Materials (AMAT), and Ally Financial (ALLY). It upped its position in Apple (AAPL) and Time Warner Cable (TWC). D. E. Shaw initiated a new position in Navient that accounts for 0.28% of the company's U.S. long portfolio. Navient spun off from Sallie Mae in April Navient holds the largest portfolio of education loans insured or guaranteed under the Federal Family Education Loan Program (referred to as FFELP loans). It also holds the largest portfolio of private education loans (referred to as private education loans). The company was spun off in April from Sallie Mae (SLM) and comprised of the latter's loan management, servicing, and asset recovery business. In May 2013, Sallie Mae's board had approved separating the company's existing businesses into two publicly traded entities—an education loan management business and a consumer banking business—to unlock value and enhance long-term growth potential. A release said Navient services nearly $300 billion in student loans, providing customer support to assist 12 million customers in successfully paying off their education loans. Navient services and collects on its own education loans portfolio and those owned by numerous banks, credit unions, and non-profit education lenders. It provides servicing support for guaranty agencies, which serve as intermediaries between the U.S. federal government and FFELP lenders and are responsible for paying claims on defaulted FFELP loans. These services include account maintenance, default aversion, and asset recovery. The company's 10-Q said it'll also be one of four large servicers to the U.S. Department of Education (or ED) under its Direct Student Loan Program and it'll provide asset recovery services to ED. Navient will also generate revenue through asset recovery services—consisting of both education loans and other asset classes—on behalf of other clients on a contingent basis. 2Q14 earnings per share declines Navient's 2Q14 EPS (or earnings per share) beat estimates. For the 2Q14, GAAP (or generally accepted accounting principles) net income was $307 million, or $0.71 diluted earnings per share, compared with $543 million, or $1.20 diluted earnings per share, for the year-ago quarter. The decrease in net income was primarily due to $257 million in gains from the sale of residual interests in FFELP loan securitization trusts that took place in the year-ago quarter, a $38 million after-tax gain from the sale of the Campus Solutions business in the year-ago quarter, and a $122 million decline in net interest income. Navient also saw a $19 million decrease in debt repurchase gains, a $15 million decrease in other income, and a $38 million increase in restructuring and other reorganization costs. Last year, Navient's management undertook a series of actions to improve shareholder value, including selling residual interests in several FFELP securitization trusts, divesting two subsidiaries, debt repurchasing, and strategically separating Navient from SLM Corporation. Navient's reportable segments results
Article continues below advertisement
FFELP Loans: Under this segment, Navient acquires and finances FFELP loans. On June 30, 2014, Navient held $100 billion of FFELP loans, compared to $107 billion on June 30, 2013.
Private Education Loans: In the private education loans segment, Navient acquires, finances, and services private education loans. Earnings increased due to a $44 million decrease in the provision for private education loan losses. Total delinquencies of 7.1% in loan repayments in 2Q14 were down from 8.4% in 2Q13.
Business Services: Navient's business services segment includes fees primarily from servicing and asset recovery activities. The segment earnings fell due to the $38 million after-tax gain recognized on the sale of a subsidiary in the year-ago quarter. During the quarter, the company received an extension of its loan servicing contract from the U.S. Department of Education.
Navient undertakes share buyback and pays dividend In May, Navient authorized $400 million to be utilized in a new common share repurchase program that doesn't have an expiration date. The company said it repurchased 4 million common stock shares for $65 million in 2Q14. It also paid a dividend of $0.15 per share. This represents a yield of around 3.49%.