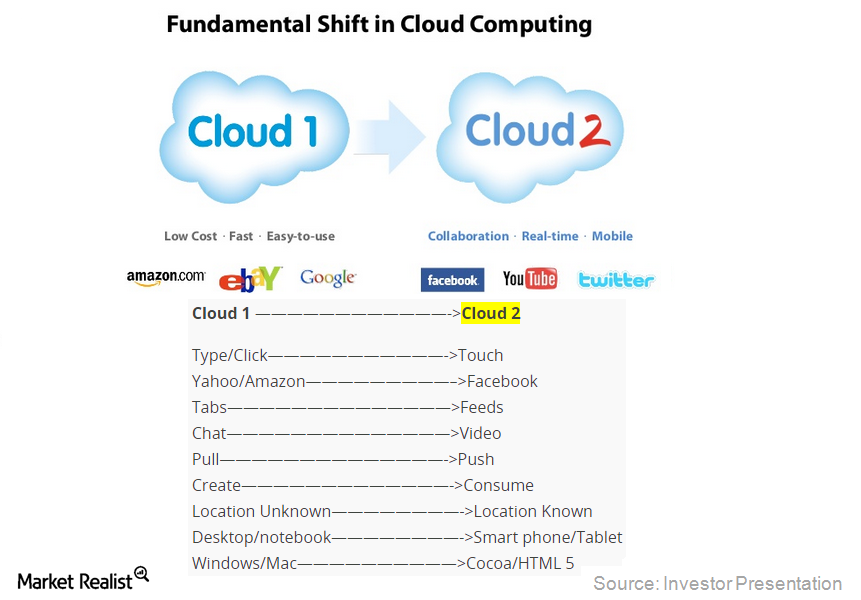 Like Salesforce, Jive upgrades "JiveX" community cloud solutions
By Anne Shields

Sep. 26 2014, Updated 12:45 a.m. ET
Jive Software named leader in social software in the workplace
Jive Software (JIVE), founded in 2001, is known globally for its communications and collaboration platform that helps employees to connect, communicate, and collaborate to work efficiently and fosters workforce productivity in organizations. In 2014, for the sixth consecutive year, it was named as a leader in Magic Quadrant for Social Software in the Workplace.

New cloud release of Jive's enterprise communications and collaboration platform
Article continues below advertisement
On August 28, 2014, Jive Software announced the update or Summer cloud release of its communications and collaboration platform "JiveX". The Jive Summer cloud update will deliver a more customized, enhanced enterprise collaboration experience across all mobile devices. JiveX was launched in 2013, where X stand for external communities at Jive World conference in Las Vegas. Jive SBS 4.5-social business software- was launched in June 2010. Jive 5 and Jive 6 were subsequently launched to provide additional social collaboration and external community features to Jive's offerings.
The company also extended its global reseller agreement with Cisco (CSCO). The agreement involves Jive's Summer cloud platform integration with Cisco's real-time communication offerings, including WebEx and Jabber.
The company has launched Jive Connector for WebEx and Jive Connector for Jabber. These connectors will enable customers to launch WebEx meetings directly from a colleague's Jive profile or with a group of individuals in any shared document. Plus, colleagues can initiate a chat session or phone call from any Jive page via compatible Jabber clients.
Salesforce Chatter allows community building within the businesses
In 2010, Salesforce.com (CRM) entered the cloud 2 app market with Salesforce Chatter. Chatter is a cloud 2 app. A cloud 2 app is a social mobile and real-time app that's used by all employees across their company for collaboration purposes.
As the chart above shows, the fundamental transformation from the cloud 1 app to the cloud 2 app involves cloud, social mobile, and real-time apps. IPad (AAPL) has functioned as an accelerator in this process.
Salesforce.com's Chatter application enables companies to build social networks for their employees.  Microsoft Yammer (MSFT), Jive Software , and NetSuite are other leading players in this market.