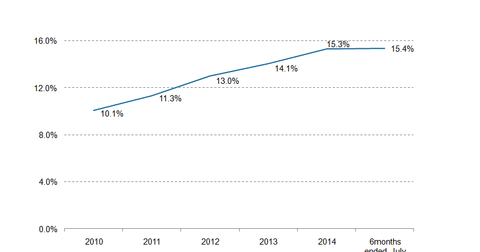 Acquisitions are significant in Salesforce.com's revenue growth
By Anne Shields

Updated
Social media is changing the IT environment 
The fast growth in social media is changing the way businesses operate. Legacy players like Microsoft (MSFT), Oracle (ORCL), and IBM (IBM) are wanting to grow through acquisitions. Their traditional licensing businesses are reporting slow growth. Smaller companies are positioned better to take advantage of social media. Salesforce.com (CRM) also adopted the acquisition route. It will offer a comprehensive suite of marketing products to its customers.

The previous chart shows Salesforce.com's expenditure on research and development as percentage of revenues. It has shown an increasing trend. The company is following an organic and inorganic route to push its revenue growth.
Increased investment in digital marketing and customer engagement
Article continues below advertisement
Organizations are increasing investments in digital marketing and customer experience initiatives. These are the primary growth drivers in the customer relationship management (or CRM) space. Gartner reported that the growth is fueled by Software as a Service (or SaaS) applications. They represented 41% of CRM's total software revenue in 2013. Organizations want an easy way to deploy software. Companies want to advertise their brands through Facebook (or FB) and Twitter (TWTR).


The previous chart shows Salesforce.com's acquisitions over the years. Salesforce acquired RelateIQ in July 2014 for $390 million.
Acquisitions aimed at strengthening its position in digital marketing and data intelligence space
Salesforce.com acquired Radian6—a social listening tool—for $326 million in 2011. It also acquired Buddy Media—a social media marketing software and publishing tool—for $689 million in 2012. In June 2013, Salesforce.com announced the acquisition of ExactTarget—a cloud marketing platform. It enables the integration of customer data from any source to power digital marketing campaigns across multiple channels. Salesforce acquired ExactTarget for $2.5 billion.
Article continues below advertisement
In July 2014, Salesforce.com acquired Relate IQ—a provider of an analytics-based customer relationship management (or CRM) platform—for $390 million. It offers a data-driven alternative to existing CRM platforms in the market. The information is visible in a mobile friendly design. As a result, it facilitates a unified customer experience. This acquisition is important. It brings relationship intelligence to Saleforce.com's cloud offerings. It's expected to strengthen Salesforce.com's position in the "big data" space.
Huge growth is expected 
Gartner reported that marketing was the fastest growing category for CRM in 2012. In the words of Salesforce's CEO and chairman Marc Benioff, "Chief Marketing Officers (or CMOs) are expected to spend more on technology than the Chief Information Officers (or CIOs) by 2017." Through its strategic acquisitions, Salesforce.com wants to benefit from this trend. Also, acquisitions usually decrease the company's competition.