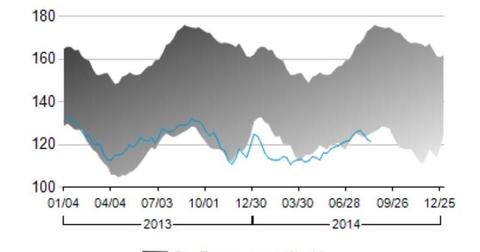 Why the latest EIA inventory data confused crude oil prices
By Alex Chamberlin

Aug. 21 2014, Updated 3:14 p.m. ET
EIA inventory data confuses crude oil prices
On August 20, the U.S. Energy Information Administration (or EIA) released inventory data for the week ending August 15. Crude inventories decreased by 4.4 million barrels versus analysts' expectations of a ~1.1 million barrel drop.
Following the news, the more active October West Texas Intermediate (or WTI) futures contract made a weak attempt to recover. However, the attempt was short-lived.
The decrease was most likely due to the high operating levels at U.S. refineries despite the approaching end of the summer driving season.
U.S. refineries were operating at 93.4% capacity—1.8% higher than last week.
According to the EIA's data for the week ending August 15, crude oil runs at the Gulf Coast refineries in the U.S. hit a record high—up 177,000 barrels per day (or bpd) to 8.74 million bpd.
Despite the surprise drop, U.S. crude inventories still stand near the upper end of the five-year range for inventories at this time of year. Also, crude inventories will likely increase more in the coming months because refineries entering seasonal maintenance will reduce demand.
This is likely one reason for the weak upward response in crude prices despite the surprisingly large draw in inventories. WTI crude fell back below $93 on August 21.
Key stocks and  ETFs
This is bearish for crude. It's negative for oil producing companies like Occidental Petroleum (OXY), Cabot Oil & Gas (COG), and Marathon Petroleum (MRO). The companies rely on strong prices for better profit margins.
Also, exchange-traded funds (or ETFs) like the Energy Select Sector SPDR ETF (XLE) and the iShares U.S. Energy ETF (IYE)—that have oil producing companies as components—may also be negatively impacted.
Refined products also influenced the confused response in prices after the data release.
Gasoline inventories
The close of the summer driving season is approaching. Refineries have churned out large quantities of summer grade gasoline. However, U.S. motorists' demand for gasoline didn't keep up last week.
Gasoline inventories increased by ~0.6 million barrels versus analysts' expectations of a 1.4 million barrel decline in the week.
Currently, gasoline inventories are comfortable in the middle of the five-year range for this time of the year.
Distillate inventories
However, distillate stocks—including heating oil and diesel fuel—fell by approximately one million barrels. Analysts expected only a 360,000 barrel drop. This was likely caused by U.S. households refilling their home heating tanks for the winter.
Distillate inventories remain near the lower end of the five-year range for this time of year. This is worrying considering the approaching winter.
Distillate inventory levels will need to be monitored to see how they impact diesel and heating oil prices. This can influence crude prices. It can also directly impact refiner profitability.
Article continues below advertisement