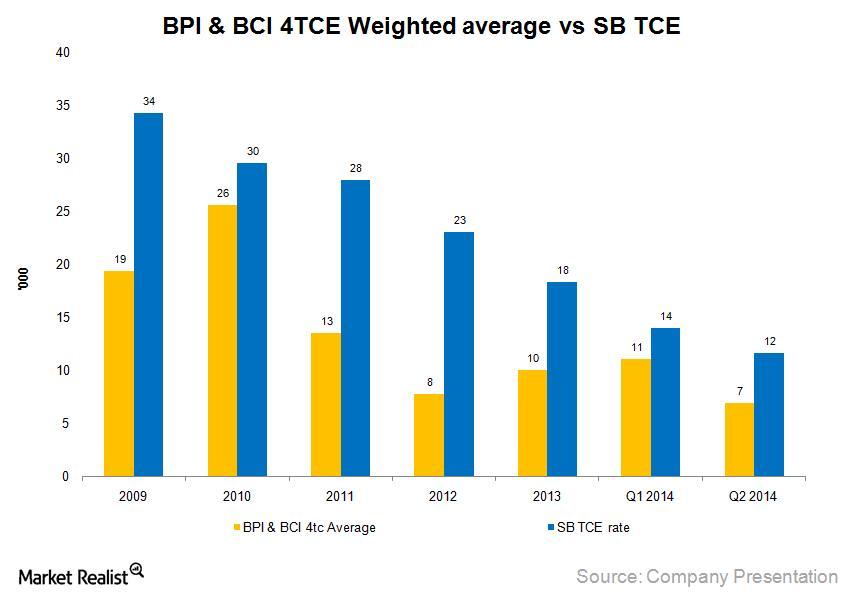 Why declining time charter rates dented revenue
Safe Bulkers' revenue
For 2Q14, Safe Bulkers reported net revenues of $37.2 million—a decrease of 10% from $41.4 million recorded in 2Q13. The drop was due to a decrease in time charter rates. However, the company recorded an commissions increase to $1.4 million from $986 million in the same quarter last year.
During the quarter, Safe Bulkers operated 31 vessels with a time charter equivalent rate of $11,642—compared to 26 vessels with time charter equivalent rate of $17,116 during 2Q13. The weighted average time charter equivalent of the Baltic Panamax (or BPI) and Baltic Capesize (or BCI) indices stood at $6,846 for 2Q14.
Average daily indicators
At the end of 2Q14, the number of vessels increased to 31 with an average fleet age of 5.53 years. At the end of 2Q13, there were 26 vessels with an average age of 5.21 years.
On July 28, 2014, the contracted employment of fleet ownership days stood at 51% for the rest of 2014. It stood at 78% for full year 2014. For 2015 and 2016, estimates stand at 19% and 10%, respectively.
Safe Bulkers' recorded 2Q14 ownership days increased to 2,821 from 2,366 in the same quarter last year. The available days and operating days also recorded an increase to 2,795 and 2,775—from 2,348 and 2,344 in the same quarter last year.
Safe Bulkers competes to earn higher revenue in the shipping industry. Its peers include Diana Shipping Inc. (DSX), DryShips (DRYS), Navios Maritime Holdings (NM), and Navios Maritime Partners (NMM). The Guggenheim Shipping ETF (SEA) tracks shipping companies.
Article continues below advertisement