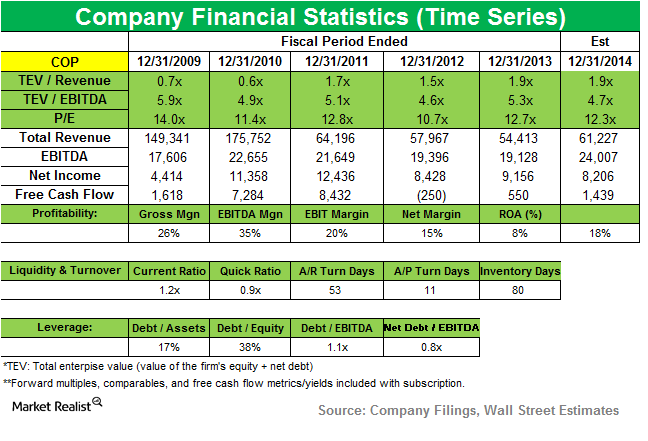 Why Berkshire Hathaway reduces stake in ConocoPhillips
Berkshire Hathaway and ConocoPhillips
Warren Buffett's Berkshire Hathaway initiated new positions in Charter Communication (CHTR) and Now Inc. (DNOW). Notable positions that increased during the quarter were Suncor Energy Inc. (SU) and Verizon Communications (VZ). The fund lowered its position significantly in Graham Holdings (or GHC) and slightly in ConocoPhillips (COP).
Berkshire Hathaway has reduced its position in ConocoPhillips (COP). The position now accounts for 0.11% of the fund's 2Q14 portfolio—down from 0.74% in 1Q14. Market Realist reported last quarter that since November, Berkshire trimmed its 24 million shares in ConocoPhillips to hold ~11 million shares in 1Q14.
ConocoPhillips is an independent exploration and production company. It's based on production and proved reserves. ConocoPhillips is headquartered in Houston, Texas. The company has operations and activities in 27 countries. It has $58 billion in annualized revenue.
Article continues below advertisement
ConocoPhillips explores, produces, transports, and markets crude oil, bitumen, natural gas, liquefied natural gas (or LNG), and natural gas liquids (or NGLs) worldwide. On December 31, 2013, ConocoPhillips' continuing operations were producing in the U.S., Norway, the United Kingdom, Canada, Australia, Timor-Leste, Indonesia, China, Malaysia, Qatar, Libya, and Russia. ConocoPhillips' operations in the U.S are focused on the Eagle Ford, the Bakken, and the Permian regions.
Revenue misses analyst estimates
ConocoPhillips' revenues for 2Q14 were $13.8 billion—up 3.5% year-over-year (or YoY). However, the revenues missed Wall Street analysts' estimate of $15.3 billion. Adjusted net income, excluding special items, was $2 billion—almost above the $1.9 billion that Wall Street analysts estimated and 1.5 % higher YoY. Total second quarter production was 1,556 barrels of oil equivalent per day (or boe/d). The Eagle Ford and Bakken regions saw production of 540,000 boe/d—38% higher than the previous quarter's production.
Market Realist reported in an article on ConocoPhillips' second quarter earnings that shares fell after the announcement about investor concerns. Investors were concerned about ConocoPhillips' ability to maintain current production levels—given the geopolitical problems in regions like Russia.
For more information please read Must-know: Key takeaways from ConocoPhillips' Q2 earnings.
Raises full-year production outlook
In its 10Q filing, ConocoPhillips said that the company achieved its targets in 2013. Its targets included selling non-core assets, advancing major projects, progressing the development of drilling and exploration programs, and maintaining a competitive dividend.
This has helped it to focus on growth in 2014. It has grown through investments in legacy assets, continued success in its development drilling and exploration programs, continued ramp up in its unconventional plays, and additional project startups—including anticipated startups in Canada, Malaysia, and the United Kingdom this year.
ConocoPhillips expects to achieve 3%–5% volume and margin growth in 2014. Production in 3Q14 is expected to be 1,435–1,485 Mboe/d. This range reflects a high level of seasonal, planned maintenance and turnaround activity.
Production in the fourth quarter is expected to be 1,590–1,640 Mboe/d. This range anticipates project startups in Canada, Malaysia, and the United Kingdom. It reflects a strong anticipated exit rate at the end of the year.
It raised the midpoint of its 2014 full-year production outlook for continuing operations—excluding Libya. The guidance is now ~1,525–1,550 Mboe/d.