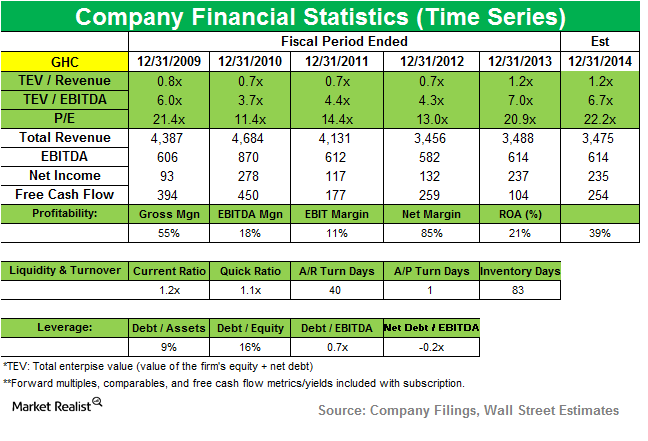 Why Berkshire Hathaway lowers stake in Graham Holdings
By Samantha Nielson

Sep. 1 2014, Updated 9:00 a.m. ET
Berkshire Hathaway and Graham Holdings
Warren Buffett's Berkshire Hathaway initiated new positions in Charter Communication (CHTR) and Now Inc. (DNOW). Notable positions that increased during the quarter were Suncor Energy Inc. (or SU) and Verizon Communications (VZ). The fund lowered its position significantly in Graham Holdings (GHC) and slightly in ConocoPhillips (COP).
Berkshire Hathaway significantly lowered its position in Graham Holdings (GHC). The position now accounts for 0.07% of the fund's 2Q14 portfolio—down from 1.15% in 1Q14.
Graham Holdings was  known as The Washington Post. It's a diversified education and media company.
Article continues below advertisement
The company's education unit, Kaplan, provides a wide variety of educational services, both domestically and outside the U.S. Kaplan is the largest operating division. It accounted for ~62.4% of Graham's consolidated revenues in 2013. Kaplan is organized into three operating segments—Kaplan Higher Education (or KHE), Kaplan Test Preparation (or KTP), and Kaplan International.
Graham's media operations include the ownership and operation of cable systems, television broadcasting—through the ownership and operation of six television broadcast stations—and Slate and Foreign Policy magazines.
Through its subsidiary, Cable ONE, the company owns and operates cable systems that provide video, Internet, and voice service to subscribers in 18 midwestern, western, and southern states.
The company also owns Trove—a digital team focused on innovation and experimentation with emerging technologies. It owns SocialCode—a leading social marketing solutions company. Graham Holdings also owns Celtic Healthcare, Forney Corporation, and Joyce/Dayton Corp.
Last year, Graham completed the sale of its newspaper publishing businesses including The Washington Post and its related website to Nash Holdings LLC. Nash Holdings is owned by Amazon.com founder Jeff Bezos.
Berkshire lowers stake through swap deal with Graham
In April, Graham and Berkshire Hathaway signed an agreement for Berkshire to acquire a wholly-owned subsidiary of Graham Holdings. The subsidiary included WPLG, a Miami-based television station, and a number of Berkshire shares currently held by Graham Holdings. It also included $327.7 million in cash in exchange for ~1.6 million shares of Graham Holdings Class B common stock owned by Berkshire Hathaway.
The deal's total value was pegged at $1.1 billion. It ended billionaire Warren Buffett's 40-year association with the company. Buffett's Berkshire Hathaway has been a major shareholder in Graham Holdings. It started investing in the company in 1973.
The deal was designed to be tax-free. It was advantageous for both companies.
Education segment posts flat revenues
Graham's income from continuing operations was $54.5 million, or $7.31 per share, for 2Q14—compared to $58.7 million, or $7.93 per share, for 2Q13. Revenue for 2Q14 was $878.6 million—up 1% from $870.5 million in 2Q13.
Article continues below advertisement
Revenue increased at the television broadcasting division and in other businesses. It declined at the cable division. Revenue was flat at the education division. At the education division, revenue at KHE declined mainly due to the fall in average enrollments. This reflected weaker market demand over the past year, lower average tuition, and the impact of closed campuses. The division also incurred restructuring costs and software asset write offs.
Reports noted that the company has been divesting its media properties to focus on its education segment. A June release from Moody's said that "Graham's cable and broadcast operations lack national scale and the overall performance of the company has deteriorated due to weakness in the education segment. Within education, Kaplan Higher Education revenue has decreased 40% since 2010 reflecting pressure in the U.S. by greater regulatory scrutiny stemming from increased default rates on Title IV student loans as well as by lingering high unemployment and an uncertain job market which has a negative impact on enrollment."
Graham divests in stake in Classified Ventures joint venture
Graham recently agreed to sell its stake in Classified Ventures (or CV) to Gannett Co. Inc. for a price that values CV at $2.5 billion. CV's primary asset is www.cars.com. CV is a joint venture. Gannett owns a 27% stake and Graham Holdings owns a 16.5% stake.