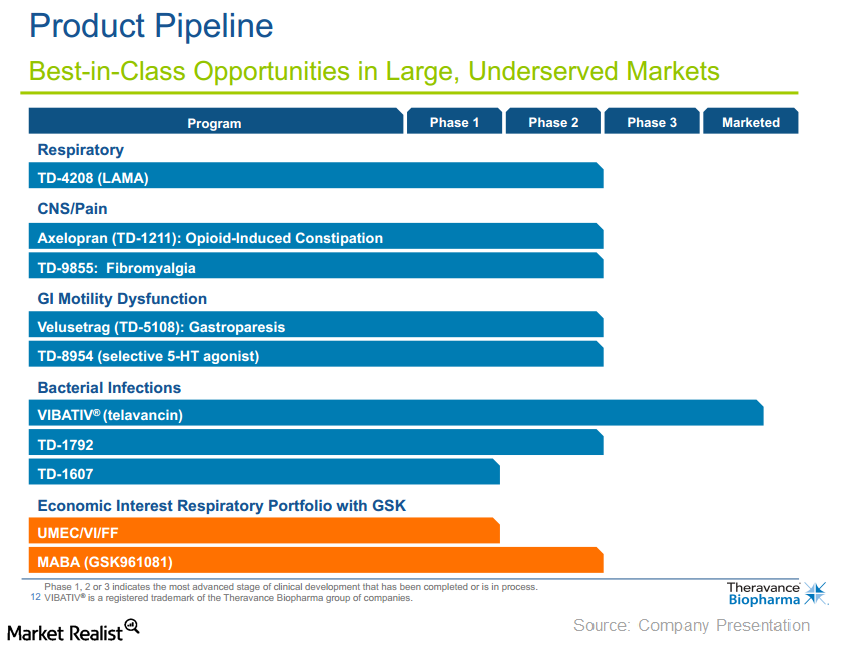 Why the Baupost Group starts new position in Theravance Biopharma
By Samantha Nielson

Nov. 7 2019, Updated 7:55 p.m. ET
The Baupost Group and Theravance Biopharma
Seth Klarman's Baupost Group initiated new positions in eBay Inc. (EBAY), Theravance Biopharma Inc. (TBPH), SunEdison Semiconductor (SEMI), and Kosmos Energy (KOS). It fully exited its stake in BP plc (BP).
The Baupost Group added a position in Theravance Biopharma Inc. (TBPH) that accounted for 9.89% of the fund's total second quarter portfolio.
Theravance Biopharma's spinoff basics
Article continues below advertisement
Theravance Biopharma was recently spun out of Theravance (THRX). According to a press release on June 2, 2014, Theravance completed the separation of its late-stage respiratory assets partnered with GlaxoSmithKline plc (GSK). It separated its discovery, development, and commercialization operations through a pro rata dividend distribution of Theravance Biopharma ordinary shares to Theravance's shareholders.
Last year, Theravance said the goal of separating into two companies is to continue its businesses in a new structure. The new structure is designed to unlock potential value, facilitate return of capital to stockholders, and further its strategy of advancing medicines that address unmet medical needs.
Theravance Biopharma noted in its filing that it has an economic interest in the future payments that may be made by GSK under agreements with Theravance Inc. The agreements are related to certain drug programs. The drug programs deal with respiratory treatments—including the "Closed Triple" or fluticasone furoate/umeclidinium bromide/vilanterol (or FF/UMEC/VI) program and the muscarinic antagonist and beta2 receptor agonist (or MABA) program—as a monotherapy with GSK961081 (081) and as a combination (081/FF). In July, 2014 Theravance and GSK announced the initiation of a large, global Phase 3 program for the "closed triple" in patients with chronic obstructive pulmonary disease (or COPD).
VIBATIV is the only approved product
Article continues below advertisement
Theravance Biopharma is a biopharmaceutical company with one approved product named VIBATIV (telavancin). It's a bactericidal, once-daily injectable antibiotic. It was discovered and developed internally. VIBATIV is approved in the U.S. and Canada for the treatment of adult patients with complicated skin and skin structure infections (or cSSSI) caused by susceptible Gram-positive bacteria. VIBATIV is also approved in the U.S. for the treatment of adult patients with hospital-acquired and ventilator-associated bacterial pneumonia (or HABP/VABP), caused by susceptible isolates of Staphylococcus aureus, when alternative treatments aren't suitable.
Theravance Biopharma's products undergoing studies
The company also has a pipeline of internally discovered product candidates and strategic collaborations with pharmaceutical companies. It said it's focused on the discovery, development, and commercialization of small molecule medicines across a number of therapeutic areas. The areas include bacterial infections, central nervous system (or CNS)/pain, respiratory disease, and gastrointestinal (or GI) motility dysfunction.
A product in Phase 2b study is an investigational inhaled long-acting muscarinic antagonist (or LAMA) TD-4208. This is a nebulized aqueous solution for the treatment of patients with moderate to severe COPD.
Velusetrag is an oral, investigational medicine. It was discovered internally and developed for gastrointestinal motility disorders. It's being developed in collaboration with Alfa Wassermann in a two-part Phase 2 program to test the efficacy, safety, and tolerability of Velusetrag in the treatment of patients with gastroparesis.
TD-8954 is in a Phase 2a study for acute use in the hospital setting for patients who require rapid restoration of upper and lower gastrointestinal motility.
For the central nervous system, Theravance Biopharma has Axelopran. It's a potential treatment for chronic, non-cancer pain patients with opioid-induced constipation. The company said it's evaluating a Phase 3 strategy relative to potentially evolving U.S. Food and Drug Administration (or FDA) requirements for this class of drug.
Positive results from a Phase 2 study of TD-9855, an internally discovered investigational norepinephrine and serotonin reuptake inhibitor (or NSRI), in patients with fibromyalgia were announced in April, 2014.
Revenue for 2Q14 was $3 million. Net loss for 2Q14 was $58.2 million or $1.83 per share. Net product sales for VIBATIV were $0.9 million for the second quarter.