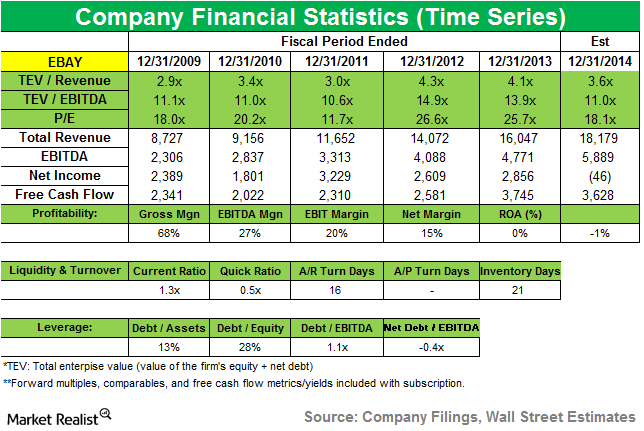 Why the Baupost Group adds new position in eBay
By Samantha Nielson

Nov. 20 2020, Updated 1:46 p.m. ET
The Baupost Group and eBay
Seth Klarman's Baupost Group initiated new positions in eBay Inc. (EBAY), Theravance Biopharma Inc. (TBPH), SunEdison Semiconductor (SEMI), and Kosmos Energy (KOS). It fully exited its stake in BP plc (BP).
The Baupost Group added a stake in eBay Inc. (EBAY) that accounted for 3.62% of the fund's total second quarter portfolio.
eBay is a global technology company that enables commerce through three reportable segments—Marketplaces, Payments, and Enterprise.
The Marketplaces segment includes the eBay.com platform, its localized counterparts, and its other online platforms such as online classifieds sites and StubHub.
The Payments segment comprises PayPal and Bill Me Later.
The Enterprise segment includes the company's Magento business. It provides commerce technologies, omnichannel operations, and marketing solutions for merchants of all sizes that operate in general merchandise categories.
Results see impact from cyber attack 
Article continues below advertisement
eBay's second quarter results beat on profits, but missed on revenue estimates despite a growth of 13% to $4.4 billion. Generally accepted accounting principles (or GAAP) earnings increased to $676 million or $0.53 per diluted share. The company's total enabled commerce volume (or ECV) increased 26% in the second quarter to $62 billion as the commerce and payments platforms delivered growth.
The company said "PayPal generated another strong quarter" but the quarter saw "eBay's growth hampered by its global password reset for all users."
Government agencies investigated eBay after the company asked its 145 million users to change their passwords when a cyber attack compromised a database containing encrypted passwords and other non-financial data. eBay saw lower user activity on its site and had to step up targeted marketing efforts to re-engage these users and other users who hadn't reset their passwords.
Therefore, its GAAP operating margin decreased to 18.2% for 2Q14—compared to 19.3% for the same period last year. Wells Fargo's analysis in the last quarter also cited ChannelAdvisor data. It said that eBay's "search rank had dropped by 3.88 places."
PayPal is the growth engine at eBay
Despite the temporary setback from the cyber attack, eBay saw growth from PayPal. PayPal's net total payment volume (or TPV) grew 29% with Merchant Services volume up 35% and on-eBay volume up 13%. Revenue increased to $1.9 billion. It was driven by growth in Merchant Services and PayPal credit.
Article continues below advertisement
PayPal gained four million new active registered accounts to end the second quarter at 152 million—up 15%. Management said on the earnings call that PayPal's recently acquired unit Braintree had a "strong quarter gaining new merchants and accelerating growth." Braintree also "launched a new set of software tools that allow developers to integrate both Braintree and PayPal in a single integration into applications in less than ten minutes." Management added that PayPal is testing free returns on cross-border purchases in four European markets. A recent article on our website discusses in detail how PayPal is driving the mobile growth at eBay.
Share buyback and debt offering
eBay repurchased 32.4 million shares of its common stock for ~$1.7 billion in 2Q14. As of June 30, 2014, the company's remaining share repurchase authorization was ~$2.2 billion. In July, eBay said it's offering $3.5 billion in debt to fund general operating activities and to pay down outstanding short-term loans.
Lowers higher end of annual revenue outlook
eBay provided a cautious outlook. It lowered the high end of its revenue forecast for the year to a range of $18 billion from $18.3 billion. For 3Q14, the company expects net revenues in the range of $4.3–$4.4 billion. Credit Suisse analysts said they're "waiting for the positive impact from eBay's key product releases such as (search algorithm) Cassini to start manifesting itself with higher conversion rates and GMV acceleration." ChannelAdvisor noted that eBay's July same store sales were down to 9.7% from June's 12.3%. Huly's same store sales were lower than the e-commerce growth rate. This indicates that eBay continues to face headwinds "from the Panda action (Google's search algorithm updates) and the data breach episode."