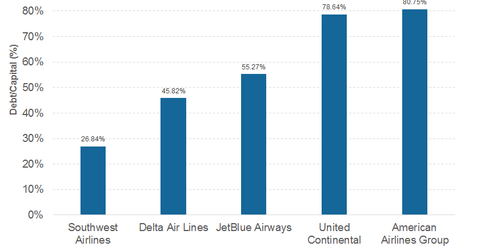 How Southwest outperforms peers with a strong balance sheet?
By Teresa Cederholm

Updated
Southwest's leverage lowest among peers
The airline industry is defined by high levels of debt to finance its huge capital expenditure. Southwest has been an exception to this as it has maintained the lowest leverage among its peers. In 2Q14, Southwest's (LUV) debt as a percentage of capital was 26.8% compared to Delta's (DAL) 45.8%, United's (UAL) 78.6%, American's (AAL) 80.7% and JetBlue's (JBLU) 55.3%. Southwest's investment grade rating fosters confidence among investors and creditors making financing options easily available to the company at a competitive rate of interest.
Southwest has only got better with respect to leverage in the second quarter as its debt to capital ratio further decreased to 26.8% in 2Q14 from 27.8% in FY13 and 28.1% in 1Q14. During 1H14, Southwest repaid $119 million in debt and capital lease obligations, out of which $73 million was repaid in 2Q14. For more details on Southwest's debt in FY13 refer the article: Southwest is the only U.S. airline with an investment grade rating.  
Strong cash position
Article continues below advertisement
In addition to low leverage, Southwest's balance sheet is further strengthened with adequate liquidity in the form of cash and short-term investments. In 2Q14, it had a negative net debt which implies that it has sufficient cash and short-term investments ($3,994 million) to repay all its outstanding debt ($2,758 million). The increase in cash was primary due to a 72% increase in cash flows from operations to $1,338 million in 2Q14. During 1H14, capital expenditure amounted to $907 million out of which $500 million were incurred in 2Q14 compared to $193 million incurred in 2Q13.The free cash flows (calculated as cash from operations minus capital expenditure) available for debt holders and shareholders after meeting working capital requirements and capital expenditure increased by 43% to $838 million. Cash generated from operations were utilized for various investing and financing activities including capital expenditure, purchases of short-term investments, debt repayments, dividend payments and share repurchases.