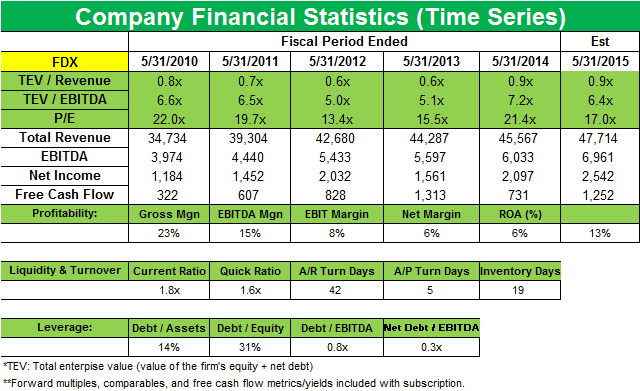 Overview: Soros Fund Management exits position in FedEx
By Samantha Nielson

Nov. 20 2020, Updated 12:53 p.m. ET
Soros Fund Management exits position in FedEx
Soros Fund Management initiated new positions in CONSOL Energy (CNX), Level 3 Communications (LVLT), Time Warner Cable (TWC), and New Oriental Education & Technology Group (EDU). It sold positions in FedEx (FDX) and Monster Beverage (MNST).
Soros Fund Management's exiting position in FedEx
Soros Fund Management exited a position in FedEx that accounted for 1.62% of the fund's the first quarter of 2014 (or 1Q14) portfolio.
Memphis-based FedEx provides a broad portfolio of transportation, e-commerce, and business services through companies competing collectively, operating independently, and managing collaboratively under the FedEx brand.
Its three primary operating companies are
Federal Express—an express transportation company
FedEx Ground Package System—a North American provider of small-package ground delivery services
FedEx Freight—a North American provider of less-than-truckload freight services
These companies represent FedEx's major service lines and, along with FedEx Corporate Services, form the core of the company's reportable segments.
Article continues below advertisement
The company's FedEx services segment provides sales, marketing, information technology, communications, and back office support to transportation segments. The segments provide customers with retail access to FedEx Express and FedEx Ground shipping services through FedEx Office and print services. The segments also provide customer service, technical support, and billing and collection services through FedEx TechConnect.
Fiscal fourth quarter results beat estimates
The company's latest 4Q14 results beat estimates on revenue and earnings. This was a reversal from the previous quarter where the company saw an impact on its financial performance due to severe winter weather. Total revenue in the quarter increased 3.5% to $11.8 billion, with earnings of $2.46 per share. Share repurchases benefited fourth quarter earnings by $0.12 per diluted share.
FedEx said "operating results improved on higher volumes and operational efficiencies at FedEx Freight, increased volumes and yields at FedEx Ground, and better revenue and cost performance at FedEx Express." FedEx Ground's average daily volume grew 8% in the fourth quarter, primarily driven by growth in e-commerce. For fiscal 2015, FedEx expects earnings of $8.50 to $9.00 per diluted share. The outlook assumes no net year-over-year fuel impact and assumes continued moderate economic growth.
FedEx Express sees flat growth year-over-year
Article continues below advertisement
For fiscal 2014, revenues increased 3% to $45.5 billion mainly due to higher volumes at FedEx Ground and FedEx Freight and yield increases at FedEx Ground. At FedEx Express, revenues were flat for the year, as lower fuel surcharges and lower freight revenue were offset by revenue growth in the company's base in the U.S., growth in the company's international export package business, and growth in the freight-forwarding business at FedEx Trade Networks.
The continuing demand shift from priority international services to economy international services dampened revenue growth at FedEx Express. The company initiated a restructuring plan targeting annual profitability improvements of $1.6 billion at FedEx Express by the end of 2016. The plan involves cost cuts, modernization of the aircraft fleet, and adjustments of transportation networks to meet changing customer needs. "Ground and Freight are performing well and Express remains on track to achieve its profit improvement plan despite the fuel headwinds we've experienced," said CEO Fred Smith on the latest earnings call.
Recent reports said that both FedEx and its peer, UPS, are to benefit after receiving licenses in its "fastest-growing" market in China for expanding domestic express package services without the support from joint-venture partners.
As noted earlier in a report by Market Realist, delivery delays during the holiday season prompted e-commerce companies, such as Amazon (AMZN), to test out their own delivery services. Amazon already has Amazon Dash, a same-day delivery service for groceries. FedEx and UPS are also poised to see competition from Google (GOOGL) and Uber, a private transportation start-up. Google and Uber are also testing same-day deliveries. For more on Uber, please read Changing transportation could affect logistics, ads, and retail.