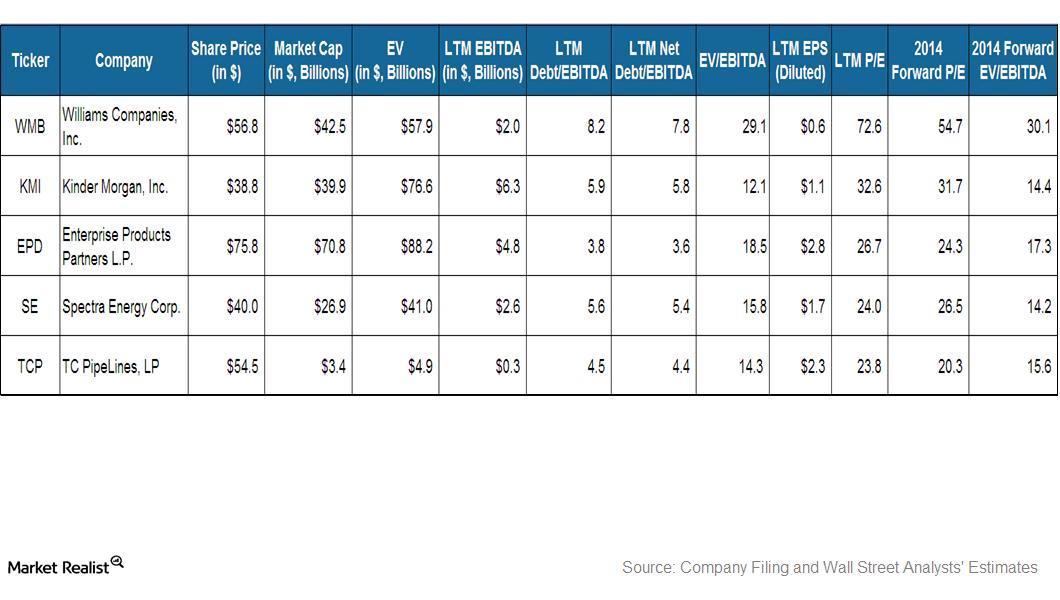 Snapshot: Valuing Williams Companies compared to its peers
By Alex Chamberlin

Dec. 4 2020, Updated 10:53 a.m. ET
Comparable-company analysis
As the table below shows, Enterprise Products Partners (EPD) is the largest company by market capitalization and enterprise value, or EV, among its closest peers. By market cap, Williams Companies (WMB) follows next.
WMB and EPD are components of the Alerian MLP ETF (AMLP).
EV to EBITDA
Kinder Morgan Inc. (KMI) has the lowest EV-to-EBITDA multiple (12.1x) here. Meanwhile, WMB has the highest EV (approximately the summation of its equity value and net debt) when scaled by EBITDA in the group (EV/EBITDA of 29.1x).
KMI is a component of the Energy Select Sector SPDR (XLE).
Kinder Morgan's EBITDA (earnings before interest, tax, depreciation, and amortization) for the last 12 months is almost 50% higher than the group's average.
Analysts' consensus forward EV/EBITDA multiple is the lowest for Spectra Energy (SE) in 2014.
Forward EV/EBITDA is a useful metric to gauge relative valuation. A lower multiple typically indicates expectations of strong EBITDA growth for the period.
Debt to EBITDA
KMI's total debt is also the highest in the group. Its debt-to-EBITDA multiple, at 5.9x, is above the group average.
WMB's last-12-month debt-to-EBITDA multiple is the highest in the group because it has the lowest EBITDA and also one of the highest debt levels. This should be a concern for investors. High debt relative to EBITDA indicates potential strain in future debt repayments.
In 2Q14, WMB raised ~$3.2 billion in debts to repay earlier debts under its commercial paper program, fund capital expenditures, and finance a portion of its ACMP acquisition.
Enterprise Products Partners (EPD) has the lowest net debt-to-EBITDA (when cash is netted from debt) multiple at 3.6x. This is primarily because of its relatively high EBITDA and industry average debt levels.
Price-to-earnings ratio (PE)
Article continues below advertisement
WMB's LTM P/E multiple is the highest in the group, at 72.6x. Spectra Energy's (SE) P/E multiple of 24.1x trades ~38% below the industry average. A higher P/E multiple typically indicates market expectation for higher earnings growth or superior earnings quality (margins and consistency). However, for full-year 2014, WMB's forward P/E ratio is still the highest. KMI follows WMB. EPD has the lowest forward P/E.
This could indicate that WMB currently trades at richer valuations compared to its peers. The market may have granted this privilege to WMB based on its faith in the company's asset quality and future potential to generate stronger profits.
Forward P/E considers sell-side analysts' consensus estimate of earnings for the year. WMB's long-term estimated EPS growth rate is the second highest among its peers at ~16.3%.
KMI's estimated EPS growth rate is highest at ~17.6%.
Check out our series covering the recent KMI consolidation here.
To access our premium industry primers, company overviews and financial models, please email premium@marketrealist.com. Specify the industry or company ticker(s) you are interested in and a representative will get in touch with you.