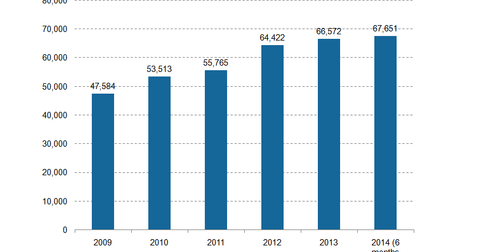 Are SAP's job cuts really aligned to its "cloud strategy"
By Anne Shields

Updated
SAP's job cuts
It seems like 2014 is the year of "layoffs." IBM (IBM), Microsoft (MSFT), and EMC (EMC) announced layoffs to streamline their operations. Yahoo (YHOO) announced job cuts in 2012. According to Reuters, SAP AG (SAP) is now joining the bandwagon. SAG is initiating 1,500–2,500 job cuts or restructuring ~3% of its workforce.
The previous chart shows the number of SAP employees over the years. The number of employees has always been increasing. However, SAP's strategy to shift its focus to cloud has led to jobs changing because new web-based sales and support operations will be required.
Biggest job cuts expected in the last four years
During the last four years, SAP hasn't made any massive job cuts. However, as the company shifts from software programming to cloud computing, workforce reduction seems inevitable.
Jobs and skill sets changing
Article continues below advertisement
SAP is a leader in the enterprise software market. It has been hit as the industry transitions towards the cloud and mobile space. To benefit from this shift, SAP has focused on a successful transition from enterprise software to cloud. The company has finalized a number of strategic acquisitions in the cloud.
Since the focus has changed, different skill sets, job roles, and technological expertise will be required. Cloud computing is preferred because businesses can reduce their costs. They give away their bulky servers for network-based software in their own offices and remote data centers. The software is provided by technology companies like SAP.
Cloud computing requires fewer on-site staff. This leads to job cuts. However, with the transition to the cloud, the company aims to add ~3,000 jobs by the end of 2014. Currently, SAP has ~67, 000 employees. There will likely to be a net increase in staff with the new hiring.
The company's cloud segment has shown good growth. However, licensing and maintenance revenue still forms a considerable portion of total revenues. It remains to be seen if layoffs impact SAP's future growth.