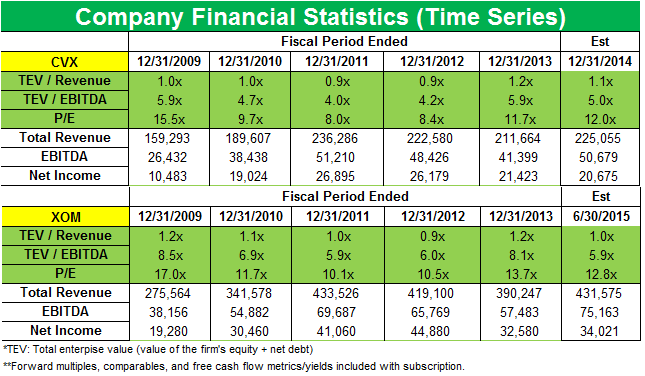 Renaissance Technologies adds positions in ExxonMobil and Chevron
ExxonMobil and Chevron
Renaissance Technologies added new positions in Procter & Gamble Co. (PG), Bed, Bath and Beyond (BBBY), ExxonMobil Corp. (XOM), Chevron Corp. (CVX) and Broadcom Corp. (or BRCM). It exited positions in Priceline Group (or PCLN) and Schlumberger (SLB).
Renaissance Technologies disclosed new positions in ExxonMobil Corp. (XOM) and Chevron Corp. (CVX). The companies accounted for 0.31% and 0.29% of the fund's total portfolio, respectively.
Irving, Texas-based ExxonMobil Corporation (XOM) engages in the exploration and production of oil and natural gas. It manufactures petroleum products. It also transports and sells crude oil, natural gas, and petroleum products.
Chevron Corporation (CVX)—headquartered in San Ramon, California—is an energy company engaged in exploration and production, refining, marketing, and transportation of oil and gas across more than 180 countries.
XOM's operations are divided in three segments—Upstream, Downstream, and Petrochemicals. CVX's operations are divided into two segments—Upstream and Downstream.
ExxonMobil sees production decline in 2Q14
Article continues below advertisement
Both companies posted earnings and revenue above analyst expectations in its latest results for 2Q14. ExxonMobil reported $111.6 billion in total revenues—up 4.7% from $106.6 billion recorded in 2Q13. It said its results were "achieved through strong operational performance and portfolio management."
Its earnings of $8,780 million increased $1,920 million, or 28%, from 2Q13. Revenues and net income improved due to higher price realization in XOM's upstream operations, higher volume and better production mix in downstream operations, and slightly better volume and mix in the chemicals segment.
The company said for the first half, its cash flow from operations and asset sales was $29 billion. This included proceeds associated with asset sales of $3.7 billion. However, its oil-equivalent production decreased 5.7% from 2Q13. This was due to the expiry of the Abu Dhabi onshore concession. Liquids and natural gas production also declined.
For more on ExxonMobil's earnings please read Must-know: An Overview of ExxonMobil's 2Q14 earnings.
Chevron's results reflect stronger market conditions and gains from asset divestments
Article continues below advertisement
Chevron's sales and other operating revenues in 2Q14 were $56 billion compared to $55 billion in the same period last year. Chevron said its current quarter earnings of $5.7 billion—$2.98 per share diluted—"reflected stronger market conditions for crude oil despite the benefits being offset by lower production volumes as a result of planned maintenance activity at Tengizchevroil in Kazakhstan." It also benefited due to gains from asset sales.
The company said its net oil-equivalent production of 667,000 barrels per day in 2Q14 was up 8,000 barrels per day, or 1%, from last year. It increased production in the Permian Basin in Texas and New Mexico and the Marcellus Shale in western Pennsylvania.
Both oil majors are focused on shareholder returns
ExxonMobil said it distributed $6 billion to shareholders in 2Q14, including $3 billion in share purchases to reduce outstanding shares. Its dividends per share of $0.69 was up 9.5% compared to 2Q13. Chevron paid dividends of $3.9 billion during the first six months of 2014. It purchased ten million common shares for $1.25 billion during the 2Q14. In July, 2014 the company declared a quarterly dividend of $1.07 per common share.
For details on Chevron's capital projects, please read Why do Chevron's capex projects determine production growth?
Both ExxonMobil and Chevron are components of the Energy Select Sector SPDR (XLE) and the SPDR S&P 500 (SPY).