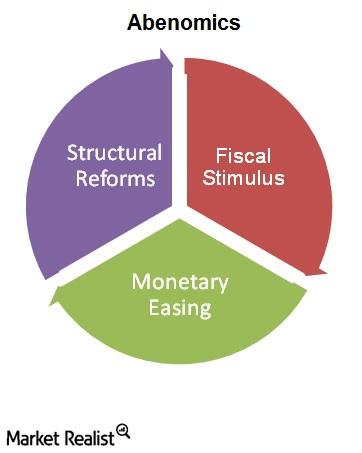 Overview: Shinzo Abe's Abenomics
By Surbhi Jain

Dec. 4 2020, Updated 10:52 a.m. ET
Shinzo Abe's Abenomics
Shinzo Abe is the 57th and current Prime Minister of Japan. He was re-elected to the position in December, 2012. He also served as Prime Minister from 2006 to 2007. Shinzo Abe is credited with improving the Japanese economy through a policy of combining increased government spending with unprecedented monetary easing. The approach has been labeled "Abenomics."
Understanding Abenomics
Abenomics is a three-pronged approach that Shinzo Abe likes to refer to as his "three arrows." These include:
Fiscal stimulus
Monetary easing
Structural reforms
Abenomics is an effort to pull the world's third biggest economy, Japan, out of two decades of stagnation by expanding the money supply, freeing up regulations, and encouraging the yen to fall.
What does Abenomics want to achieve?
Article continues below advertisement
Abenomics intends to revive an economy that has been in deflation for over two decades. It will increase the money supply to boost economic activity and the rate of inflation. The approach is also targeted to help exporters like Toyota (TM), Honda (HMC), and Canon (CAJ), by making exports cheaper. This will boost business activity and employment in Japan. An increase in business activity gives a boost to these companies. This is reflected in the performance of exchange-traded funds (or ETFs) like the iShares MSCI Japan ETF (EWJ) and the WisdomTree Japan Hedged Equity Fund (DXJ).
So far, Shinzo Abe's first two arrows have been on target. He has been successful in implementing the first two effectively within a year:
Shinzo Abe introduced a stimulus of ~$100 billion, one month after he took power in December, 2012.
Last year, the Bank of Japan unleashed a massive round of quantitative easing by pledging to inject $1.4 trillion into the economy in less than two years.
The future course of Abenomics
Shinzo Abe's most acclaimed achievement has been the reversal of years of deflation in the Japanese economy. The strategy depends on wages increasing. While going ahead with the first hike in the consumption tax in 17 years in April from 5% to 8%, the Abe administration has introduced tax cuts for businesses. It's seeking to start substantially lowering the effective corporate tax rates beginning in fiscal 2015.