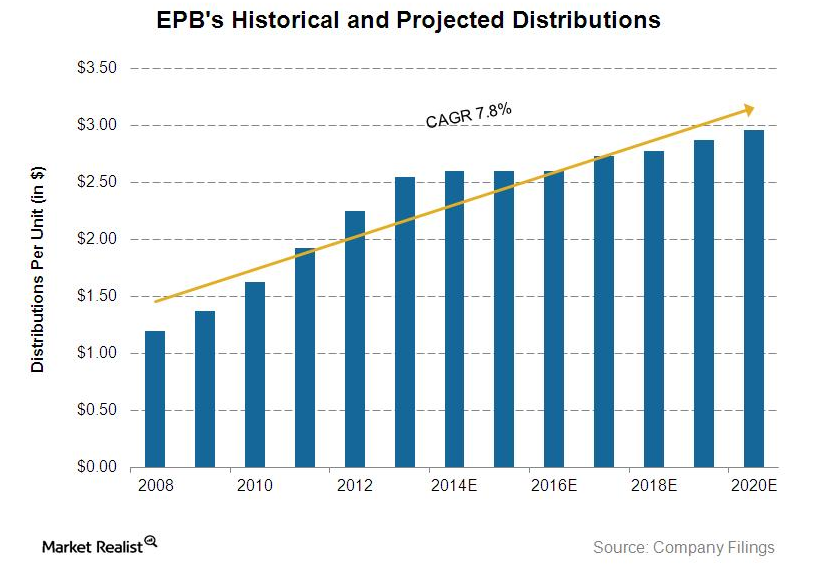 Overview: Kinder Morgan's acquisition of El Paso Pipeline Partners
El Paso Pipeline Partners
El Paso Pipeline Partners (EPB) is a master limited partnership (or MLP) that owns and operates natural gas transportation pipelines, storage, and other midstream assets.
Article continues below advertisement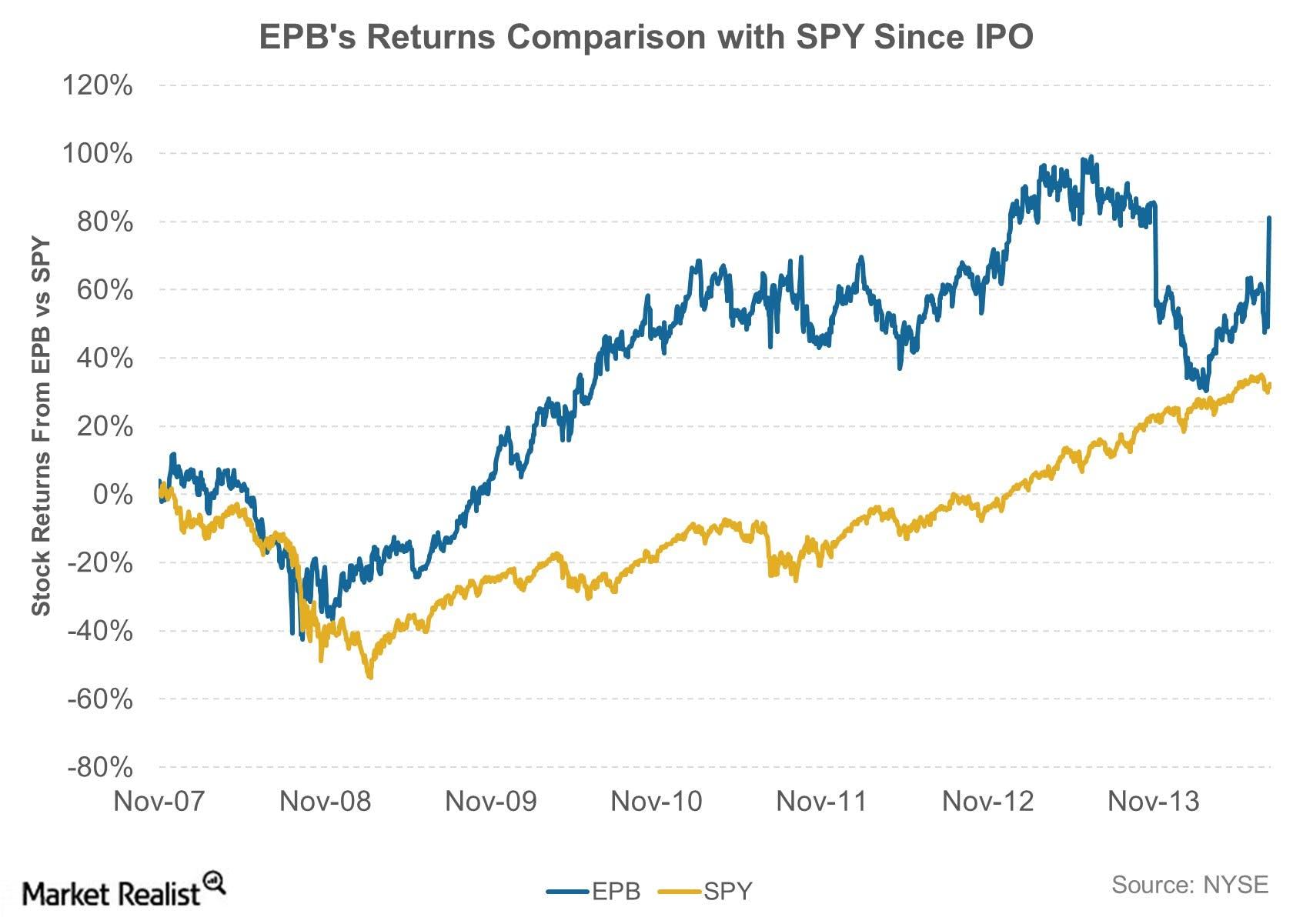 EPB was acquired by Kinder Morgan, Inc. for $38 billion in 2012. EPB owns more than 13,000 miles of pipeline and associated storage facilities with aggregate storage capacity of nearly 100 billion cubic feet (Bcf). El Paso's assets consist of:
Article continues below advertisement
Southern Natural Gas Company (or SNG), an interstate natural gas company located in the southeastern U.S.
Colorado Interstate Gas Company (or CIG), an interstate pipeline company located in the Rocky Mountains
Wyoming Interstate Company (or WIC), an interstate pipeline company primarily located in Wyoming and Colorado
EPB's assets also include:
Southern LNG Company (or SLNG), which owns an LNG storage and regasification terminal near Savannah, Georgia
Elba Express Pipeline Company (Elba Express), an interstate pipeline company located in Georgia and South Carolina
Cheyenne Plains Gas Pipeline Company (or CGP), a pipeline extending from the Rocky Mountain region to Kansas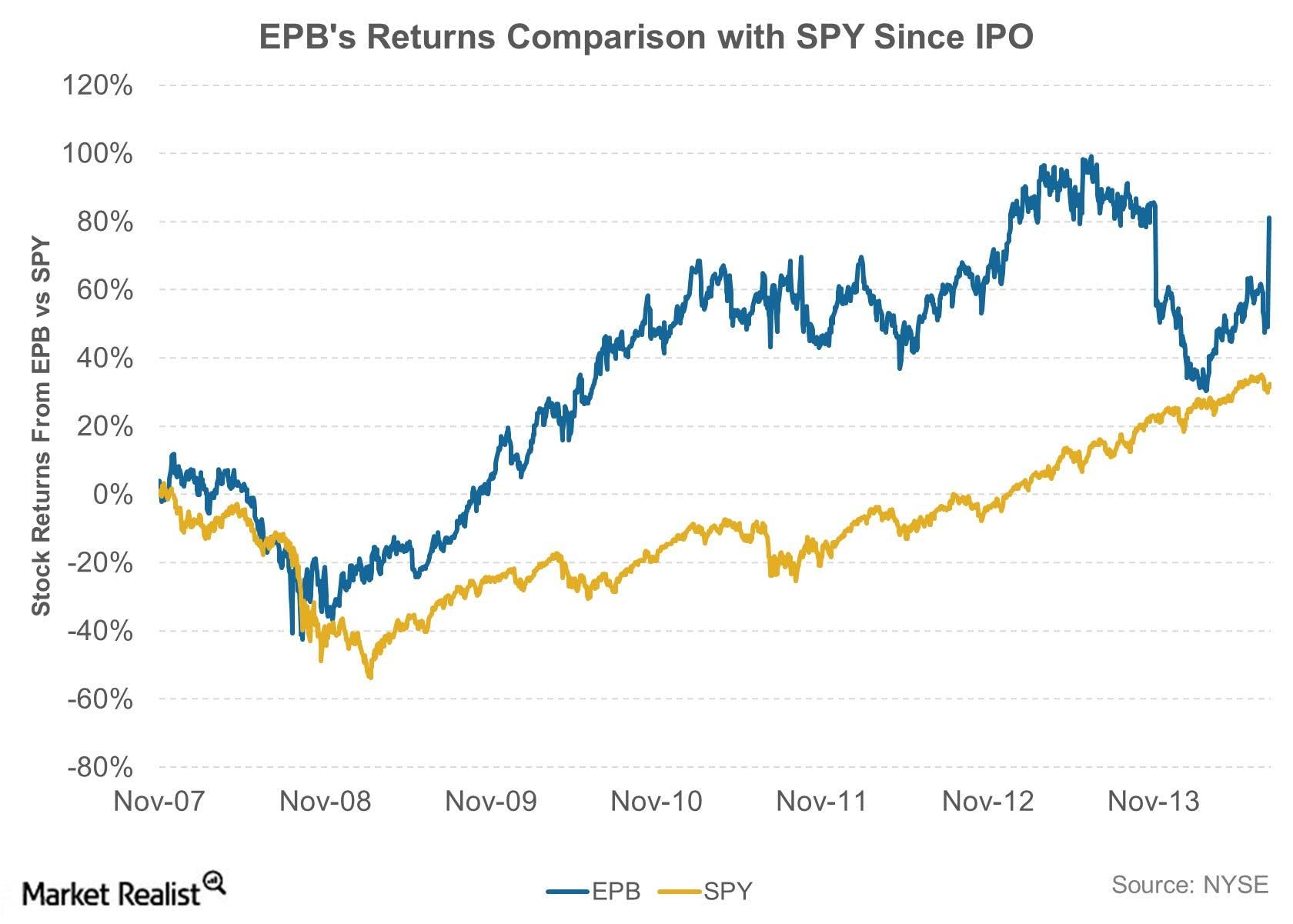 Article continues below advertisement
El Paso's distribution growth
Kinder Morgan expects distributions per share in EPB to grow from $2.55 to $2.60 in 2014. It also projects its distributions to grow to $2.96, based on cash flows from a number of growth projects.
EPB is the highest-yielding security within the Kinder Morgan family, at ~7.5% compared to Kinder Morgan Energy Partners (KMP), which yields 6.9%. But EPB is less diversified compared to KMP. It has a lot of room for distribution growth. This outlook hasn't changed since the last quarter of 2013.
KMP is a component of the S&P 500 (SPY), the Alerian MLP ETF (AMLP), and the Global X MLP ETF (MLPA).
El Paso has plans for more than $1 billion worth of its own expansion projects in 2014. These new projects are already under contract with customers. Management believes El Paso will generate $1.3 billion in core earnings in 2014. This would amount to a 7% growth.
El Paso's LNG export project
In March 2014, subsidiaries of EPB and Shell filed an application with the Federal Energy Regulatory Commission (or FERC) requesting the authority to construct and operate new natural gas liquefaction and export facilities on Elba Island, near Savannah, Georgia.
The project involves ~$1.2 billion investment. It's expected to have total capacity of approximately 350 million cubic feet per day of natural gas (2.5 million tons per year of LNG).
Other growth investments
The $275 million Elba Express Company (EEC) expansion project is expected to begin phasing in service in June 2016 pending regulatory approvals from the FERC.Plus, construction continues on the WYCO High Plains Expansion Project, a joint venture between EPB's Colorado Interstate Gas Company (CIG) and Xcel Energy (XEL).