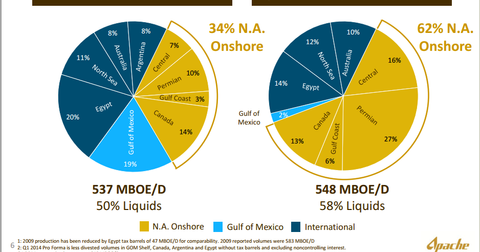 Overview: Apache's domestic and international operations
By Samantha Nielson

Updated
Apache's domestic and international operations
Last month, activist investors' hedge fund JANA Partners LLC disclosed a stake worth $1 billion in Apache Corp. (APA). It's pushing the oil and gas producer to divest its international holdings. Besides pushing for a sale of the company's international interests and a focus on domestic shale opportunities, the fund wants Apache to exit its liquefied natural gas (or LNG) investments and provide clarity on its operations in the Permian Basin in west Texas.
Article continues below advertisement
According to Apache's annual filing, the company's North American asset base mainly consists of operations in the Permian Basin, the Central Region comprising Anadarko Basin in western Oklahoma and the Texas Panhandle, Gulf Coast onshore and offshore areas of the U.S., and in western Canada. It also owns leasehold acreage holdings in the Cook Inlet of Alaska and other areas where it's pursuing exploration opportunities. North America contributed ~58% of Apache's worldwide production and 50% of its oil and gas production revenues for the year. Apache's international assets are located in Egypt's Western Desert, offshore Western Australia, U.K's North Sea, and Argentina. In 2013, international assets contributed 42% to its production and 50% to its oil and gas revenues.
Permian Basin
Apache said on its website that it's one of the largest operators in the Permian Basin, with more than 13,500 producing wells in 155 fields, including 47 waterfloods and seven CO2 floods. The company said in its 10K filing that production in the region has increased for 12 consecutive quarters. During 2013, the company drilled or participated in drilling 785 wells, of which 186 were horizontal. The Permian region's year-end 2013 estimated proved reserves were 910 million barrels of oil equivalent (or MMboe), representing 14% growth over year-end 2012. In 2013, Apache increased multi-rig development programs in several horizontal plays in the Midland Basin, targeting the Wolfcamp and Cline Shales. It also increased development activity in the Yeso area of New Mexico and across the Permian's Central Basin Platform. The company expects these extensive programs to carry into 2014 and drive the region's growth.
Central region
Article continues below advertisement
The Central region controls 1.8 million gross acres that are mostly held-by-production and includes more than 3,800 producing wells primarily in western Oklahoma and the Texas Panhandle. The region was Apache's first core area and has historically grown through low-risk, highly predictable exploitation. The vast majority of its drilling activity has been in the Anadarko Basin. Apache added its significant acreage position in the basin which provides a robust drilling inventory for the next several years across numerous horizontal liquids plays, notably the Granite Wash, Tonkawa, Marmaton, Cottage Grove, and Cleveland. Total region production in 2013 was 91 MMboe per day, of which 50% was oil and natural gas liquids (or NGLs). As of year-end, the Central region's estimated proved reserves totaled 304 MMboe—an increase of nearly 14% from year-end 2012.
Gulf Coast onshore and offshore assets
The  Gulf Coast assets are primarily located in and along the Gulf of Mexico, in the areas onshore and offshore Texas, Louisiana, Alabama, and Mississippi. During 2013, Apache drilled shallow and moderate-depth development wells and completed the construction of gathering and processing facilities in the company's Atchafalaya Bay development project. The region also continued evaluating deeper exploitation opportunities and several unconventional resource plays, which included drilling three Eagle Ford Shale wells on its southeast Texas acreage with plans to substantially increase activity in 2014. For the year, the region drilled or participated in drilling 43 wells and projects drilling ~90 wells in 2014.
Apache said in its annual filing that it owns over 900,000 gross acres across nearly 170 blocks in the Gulf of Mexico Deepwater region as of the end of 2013. The Deepwater region contributed ~2% of the company's worldwide production in 2013 with multiple projects and developments underway.
Article continues below advertisement
Apache entered the Canadian market in 1995 and holds approximately seven million gross acres across the provinces of British Columbia, Alberta, and Saskatchewan. The region's large acreage position provides portfolio diversification as well as significant drilling opportunity. The Canadian region provided ~14% of Apache's 2013 worldwide production.
Apache has been selling non-core assets
Last year, Apache completed the sale of its Gulf of Mexico Shelf operations and properties to Fieldwood, an affiliate of Riverstone Holdings, for a cash consideration of $3.7 billion. Also, Apache retained 50% of its ownership interest in all exploration blocks and in horizons below production in developed blocks. In June, Apache completed the sale of its non-operated interests in the Lucius and Heidelberg development projects and 11 primary term deepwater exploration blocks to a subsidiary of Freeport-McMoRan Copper & Gold Inc. (or FCX) for $1.4 billion.
In March, the company announced the sale of mainly dry gas-producing properties in the Deep Basin area of western Alberta and British Columbia, Canada, for $374 million. CEO Steven Farris said "The sale of these natural gas assets—and other Canadian gas-producing properties sold last year—will permit Apache's Canada Region to concentrate on liquids-rich opportunities that can provide more attractive rates of return and more predictable production growth."
Article continues below advertisement
Last year, Apache sold one-third minority interest in its Egypt oil and gas business to Sinopec for a cash consideration of $2.95 billion. Although the company's Egyptian operations continued uninterrupted last year, the stock was pressured over political unrest in Egypt. For 2013, Egypt accounted for 19% of Apache's total oil and gas production, and represented about 10% of the its total estimated proved reserves.
In March, Apache's subsidiaries completed the sale of all of the company's operations in Argentina to YPF Sociedad Anónima for a cash consideration of $800 million plus the assumption of $52 million of bank debt as of June 30, 2013.
Apache and some of its peers such as Hess (HES), Occidental, and Chesapeake (or CHK) Energy have been selling non-core assets because they face investor calls to cut spending and focus on domestic higher growth projects. Apache and peers operating in the Permian Basin such as Anadarko Petroleum (or APC), Occidental Petroleum (OXY), Pioneer Natural Resources (or PXD), and EOG Resources (or EOG) are components of the Energy Select SPDR ETF (XLE) and the Vanguard Energy ETF (VDE).