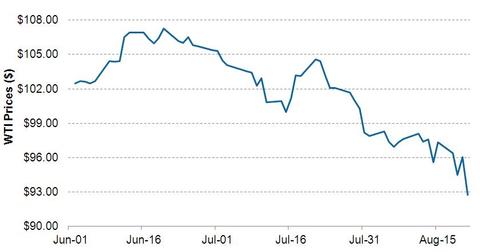 Must-know: Why crude oil prices have been falling lately
By Alex Chamberlin

Aug. 22 2014, Updated 6:08 a.m. ET
Falling crude oil prices
West Texas Intermediate (or WTI), the U.S. benchmark, crude oil has been in a downward trend since it hit a high of over $107 per barrel in mid-June. Front month futures were near $93 on August 21.
Geopolitical tensions
At the middle of this year, there were multiple factors that pushed global crude oil prices higher. While WTI crude reached ~$107 per barrel in mid-June, Brent crude, the international benchmark, hit ~$115 per barrel.
While the Libyan supply of light crude had been taken out of world markets for a while, the following geopolitical events have kept oil markets on edge:
Insurgency in Iraq – Islamic State in Iraq and Syria (or ISIS) threat to supplies from giant oil fields
Ukraine conflict involving Russia – a major supplier of energy to the world
Israel-Gaza conflict – a region that is home to the world's largest crude oil deposits and supplies
Threats still remain, but prices are down
When we look at the world today, most of these factors still persist. However, Brent crude stands barely above the $100 mark. The question that needs to be answered is "Why are crude oil prices down from the highs in June?"
What's changed?
The Libyan supply, although not at Qaddafi-era levels, has restarted in leaps and bounds.
There were agreements between various militia and the Libyan government. They allowed major oil fields to restart and major ports to reopen for export. As a result of the agreements, Libyan supplies now stand at ~560,000 barrels per day (or bpd)—almost four time what it was in early June.
However, the backdrop to the resumed supply is even more important.
The shale and fracking induced boom in the U.S. has pushed crude oil production to a 27-year high. Indeed, U.S. dependence on petroleum imports has decreased by half since 2005.
Also, booming Canadian supplies of heavy oil to the U.S. have also added to this rapidly increasing supply.
So, crude oil that used to be imported into the U.S. need to find a new home.
Recipe for a price decrease
Combine these factors with "fresh" Libyan supply hitting the market, and you have an Atlantic Basin with more crude than the market is used to handling.
This scenario creates a decline in prices on either side of the Atlantic. However, this is only part of the picture.
Add "reduced threat perceptions" into the mix
When we look at all the geopolitical threats that scared the oil market earlier, they don't seem as scary today.
ISIS still hasn't captured major oil fields. The U.S. has even chosen to intervene with airstrikes to help keep ISIS at bay. Also, the situations in Israel and Ukraine seem to be continuing without escalating more.
Key stocks and ETFs
Plenty of supplies and reduced threat perceptions have helped bring crude prices down. This isn't good news for major crude oil producers like ExxonMobil (XOM), Chevron Corp. (CVX), and ConocoPhillips (COP).
If these companies came under pressure due to lower crude prices, broad sector exchange-traded funds (or ETFs)—like the Energy Select Sector SPDR ETF (XLE) and the iShares U.S. Energy ETF (IYE)—would also feel the pressure.
Continue reading the next part of this series to learn how inventory data briefly stopped this decline on August 20.
Article continues below advertisement