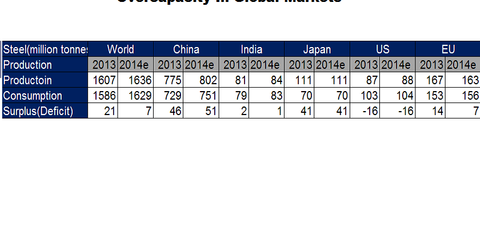 Must-know: Why the US is the biggest steel importer in the world
By Mohit Oberoi, CFA

Updated
The U.S. steel market
The U.S. is the world's third biggest steel consumer, followed by China and Japan. Over the years, the U.S. has emerged as the biggest steel importer globally. This is worrying, as the capacity utilization in the domestic industry is low. This means that the domestic companies are capable of meeting the steel demand.
Why the U.S. is the biggest steel importer
If we look at the table above, the U.S. turns out to be the only country with production deficits. All other major countries have a production surplus and are net exporters. The difference between the U.S. and global steel prices remains a key reason for this. The higher steel prices in the U.S. make it a lucrative market for global steel companies.
Article continues below advertisement
The overcapacity and the resultant export from low-cost countries increase the steel supply in international markets. Increasing supply puts downward pressure on steel prices, which is negative for investors of ArcelorMittal (MT), United States Steel Corporation (X), Nucor (NUE), Steel Dynamics (STLD), and the SPDR S&P Metals and Mining ETF (XME).
How China is able to produce steel so cheaply
Let's understand how China is able to produce steel so cheap. Steel is an energy and raw material intensive business, so the low-cost labor advantage is not the driving factor. Incidentally, China has to import most of its iron ore and energy, so the cost of production should actually be higher. But if you dig deeper, the following factors come out for this difference:
China's government subsidies for steel companies
Lower interest credit from state-owned banks
Competitive exports, as the Chinese currency is traded much below its fair value
U.S. steel producers filed 40 antidumping and countervailing duty petitions in 2013 and the first two months of 2014, the largest volume of trade cases in steel since 2001.
The International Trade Commission (or ITC) recently ratified the antidumping duty imposed by the U.S. Department of Commerce last month. The duty was imposed on tubular goods. Let's understand the importance of these goods and the ITC ruling in the next part of the series.