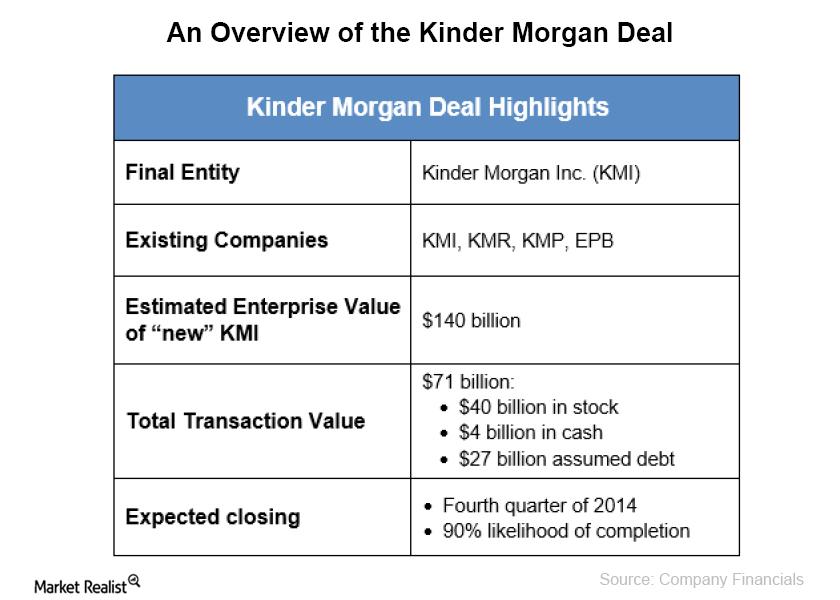 A must-know overview of the Kinder Morgan consolidation
By Keisha Bandz

Feb. 3 2015, Updated 11:49 a.m. ET
Transaction overview
On Sunday August 10, Kinder Morgan Inc. (KMI) announced that it will be consolidating all of its affiliates under one public company.
KMI will acquire all outstanding public units of Kinder Morgan Energy Partners (KMP) and all outstanding shares of Kinder Morgan Management (KMR). El Paso Pipeline Partners (EPB) will be acquired by KMP, which in turn will be 100% owned by KMI.
The combined company is estimated to have an enterprise value (or EV, which is roughly the summation of the equity and net debt of a company) of $140 billion.
This will make it the largest energy infrastructure company in North America and the third-largest energy company in North America, following only Exxon Mobil and Chevron.
KMI estimates a high likelihood of the deal completing in 4Q14. Shareholder and unitholder meetings for the companies involved in the authorization of the deal are expected in the fourth quarter this year.
Implications for shareholders
KMI intends to pay a premium for each company and will mostly be using stock as payments. This will also allow shareholders of the three target companies to continue participating in any future upside of the combined company.
Sneak peek: How will the "new" KMI look?
The combined KMI will have interests in about 80,000 miles of pipelines and 180 terminals.
KMI's pipelines are used for transporting transport natural gas, gasoline, crude oil, carbon dioxide, and other product, while its terminals are used for storing petroleum products and chemicals and also handling products like ethanol, coal, petroleum coke, and steel.
Article continues below advertisement
The company has reported backlogs of $4.6 billion in projects that it will carry out in the next seven years. These include LNG liquefaction at Elba Island, Tennessee Gas Pipeline north-to-south expansion projects, Eagle Ford Shale crude gathering and processing, Southern Natural Gas and Elba Express pipeline expansions, and system expansions to the Mexico border.
Key ETF
The major area of business that Kinder Morgan companies operate in is energy infrastructure. Some of these Kinder Morgan companies and other energy infrastructure companies are part of the Alerian MLP ETF (AMLP).