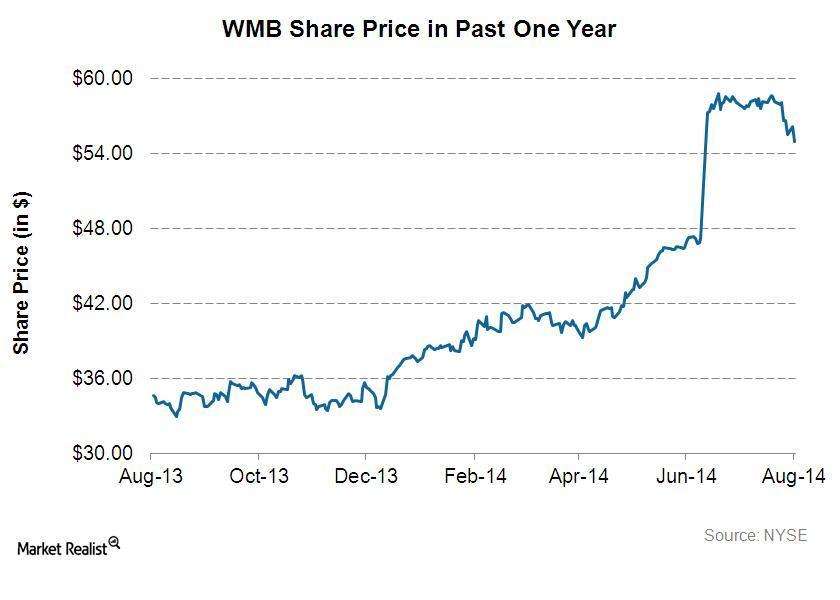 A must-know investor's overview of Williams Companies
Williams Companies
Williams Companies Inc. (WMB) is in the business of energy transport and processing infrastructure. Its diversified operations include interstate gas pipelines, local midstream operations, and olefins production.
WMB's assets are predominantly located in the U.S. But they also extend into operations related to oil sands processing in Canada.
WMB earns its revenues through its subsidiaries, which include:
Article continues below advertisement
Williams Partners: WMB owns a 64% limited partner (or LP) interest and a 100% general partner (or GP) interest in Williams Partners L.P. (WPZ). WPZ is a master limited partnership (or MLP) that holds the majority of Williams' gas pipelines and midstream operations domestically.
Williams NGL & Petchem Services: This subsidiary primarily consists of WMB's Canadian midstream business, which produces olefins (an unsaturated chemical compound like natural gas liquids) for petrochemical feedstocks.
ACMP interest acquired in June
On June 16, 2014, WMB disclosed that it had agreed to acquire the remaining 50% GP interest that it didn't already own and another 55.1 million LP units in Access Midstream Partners (ACMP) from Global Infrastructure Partners II for $5.99 billion. The transaction completed on July 1, 2014.
The deal accelerated Williams Companies' transformation into a pure-play GP holding-company structure.
Further, subject to the board members' approval, WMB has proposed merging WPZ into ACMP at a ratio of 0.85 ACMP units per WPZ unit.
Key stocks and ETFs
Other companies in the midstream energy processing and transportation space include Enterprise Products Partners (EPD) and Spectra Energy Corporation (SE). Some of these are components of XLE and the Alerian MLP ETF (AMLP).
Previously, in December 2011, WMB spun off its exploration and production business into what's today WPX Energy Inc. (WPX).
In the past year, WMB shares rose ~60%. On June 16 alone, they spiked ~19%, following the company's announcement of acquiring a controlling stake in ACMP.
Read on to the following parts of this series to learn about WMB's 2Q14 results.
To access our premium industry primers, company overviews and financial models, please email premium@marketrealist.com. Specify the industry or company ticker(s) you are interested in and a representative will get in touch with you.