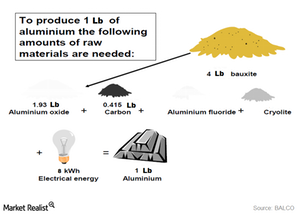 Must-know: Why energy prices are important for aluminum companies
By Mohit Oberoi, CFA

Updated
Raw materials in making aluminum
As we discussed earlier, bauxite is the primary raw material for aluminum. Australia remains the biggest producer and exporter of bauxite globally. Companies like BHP Billiton (BHP) engage in exporting bauxite.
Bauxite is available in all countries. But it's the quality of the mined product that drives the global bauxite trade. Energy and carbon are also key raw materials used in aluminum production.
We'll now look at the breakup of each raw material in making aluminum.
Aluminum production is energy intensive
Article continues below advertisement
The chart above shows the various raw materials used in aluminum production. As you can see, it takes four pounds of bauxite and upto 8 kilowatts per hour of electricity. The cost of electricity represents around one-third of the cost of smelting. So electricity prices are a key driving factor for aluminum companies. A lot of aluminum plants have captive power plants, producing their own electricity. To reduce the electricity costs, a lot of companies set up their plants near cheap sources of electricity like hydro power.
Besides bauxite and electricity, carbon is a key raw material. Close to 0.4 pounds of carbon is used to produce each pound of aluminum. The quality of carbon used is critical, as it can impact the operations of the plant.
Energy's importance can be gauged from the fact that as per estimates, more than 3% of electricity produced globally is used in aluminum extraction. In Australia, one of the world's largest bauxite producers, 12% of electricity consumed went into aluminum production.
Electricity supply and prices are key drivers for aluminum companies like Alcoa (AA), Century Aluminum (CENX), Kaiser Aluminum (KALU), and Constellium (CSTM). Electricity supply and prices also impact the SPDR S&P Metals and Mining ETF (XME).
In the next part of the series, we analyze how a lot of investors are betting their money on aluminum, turning this commodity into an attractive investment option.
When originally published, this article mistakenly described the electricity consumption per pound of aluminum at 13 kWh. Also the graph in this article mistakenly valued the electricity consumption per pound of aluminum at 13 kWh. We have since changed it to 8 kWh. We regret these errors.