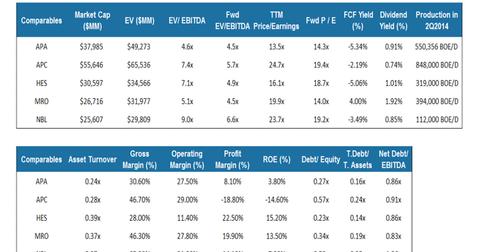 Must-know: Apache's placement compared to its peers
By Keisha Bandz

Updated
Apache compared to its peers
In this section, we'll discuss how Apache is placed compared to its peers. We'll compare the size, production, price earnings ratio, EV/EBITDA, debt-to-equity ratio, and returns and dividends of Apache and its peers.
Size
In terms of size, Apache Corp's (APA) upstream peers include Anadarko Petroleum (APC), Hess Corp. (HES), Marathon Oil (MRO), and Noble Energy (or NBL).
APC is the largest company when measured by enterprise value (or EV) and market capitalization. It's followed by APA.
Production
Production in the latest quarter was the highest for APC at 848 million barrels of oil equivalent per day (or mboe/d). APA was close at 550 mboe/d. NBL had the smallest production in this group for the quarter at 112 mboe/d.
Price earnings ratio
APC has the highest price earnings (or P/E) ratio. This is the ratio of a share price to earnings per share (or EPS). A high P/E ratio implies that investors are anticipating higher growth in the future.
However, APA's P/E is one of the lowest among its peers. This may reflect the markets lack of confidence in its future. It also indicates its current relative cheapness.
APA's forward P/E—uses analysts' consensus estimate for EPS—is actually higher. This means that analysts are expecting APA's profits to be lower going forward. This also helps explain it's relatively lower current P/E.
EV/EBITDA
EV to earnings before interest, taxes, depreciation, and amortization (or EBITDA), also known as the enterprise multiple, is the lowest for APA. This indicates its cheapness compared to its peers.
However, given the small implied EBITDA growth from its forward EV/EBITDA—analysts' estimates of future EBITDA—the low current EV/EBITDA shouldn't be a surprise.
Debt-to-equity ratio
APA's debt-to-equity ratio is very low at 0.27x. This implyes its good management of debt and capital. Debt-to-equity measures a company's financial leverage. A low debt-to-equity implies lower risk for the company.
APA has likely been able to scale down its debt as a result of cash generated from the asset divestments it has undertaken since 2010.
Returns and dividends
When its profitability is scaled by its shareholder equity, also called a return on equity (or ROE), APA has the lowest in its peer group at 3.8%. HES has the highest at 15.2%.
Returns to shareholders in the form of dividends—as measured by dividend yield, or dividends divided by share price—is also one of the lowest in the group for APA at 0.91%.
However, APA repurchased shares for $2 billion. For context, the company's board authorized a 30-million share-repurchase program last year.
Outlook
Markets will be watching how APA uses the free cash available from divestitures. The market wants to see how APA responds to its recent slow growth and profitability. A higher return on capital and profit growth picking up again might push the stocks up.
Key exchange-traded fund (or ETF)
APA, APC, MRO, and HES are all components of the Energy Select Sector SPDR ETF (XLE).
Article continues below advertisement