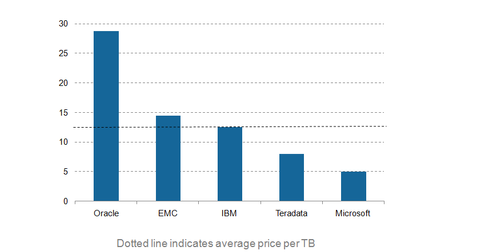 Microsoft's position in the Big Data market
By Anne Shields

Updated
Data as the "business currency of the future"
With so much information pouring from all avenues—be it social, mobile, cloud, or analytics, there is a need for tools that can assist organizations to gain insights from this array of data. The mobile market is booming. It's no surprise that Microsoft's executives referred to "data" as the "business currency of the future."
Partnerships to enhance its visibility in "Big Data"
In 2013, Microsoft (MSFT) announced its partnership with Hortonworks, a Hadoop start-up, to get a piece in the burgeoning Big Data pie. Windows Azure HDInsight is the cloud-based Hadoop service developed in partnership with Hortonworks.
Hadoop is an open source software that provides useful insights into companies involved with huge amounts of data. It forms a big part of Big Data. EBay and Twitter (TWTR) use a lot of Hadoop technology. In July 2014, HP (HPQ) also made a strategic investment of $50 million in Hortonworks.
The above chart shows the price per terabyte (or TB) of compressed user-available storage, which measures the value of useable storage space, by leading vendors. Microsoft clearly comes out as a player that offers significantly lower price per TB among its peers.
New tools launched
In response to "Big Data," the company launched three tools that are designed to reap benefits from the ever expanding and flowing Big Data.
Article continues below advertisement
Microsoft SQL Server 2014 is aimed at faster performance due to its in-memory processing for all types of workloads.
Microsoft Analytics Platform System (or APS) is described as a "big data in a box" that functions by unifying SQL Server and Hadoop.
Microsoft Azure Intelligent Systems Service is a cloud-based service designed to collect and manage data from the Internet of Things.
Unique features that give the tools a competitive edge
Microsoft APS combines relational database management systems, in-memory technologies, Microsoft Azure cloud integration, and Hadoop into a single data warehouse solution. Due to this alignment with existing IT infrastructure, it seems to offer a solution to the volume and variety of the data that organizations receive with each passing moment. The other benefit—which APS differs from other peers like EMC, Oracle (ORCL), IBM (IBM), and Teradata—is its lower costs. The chart above shows that Microsoft APS provides the industry's lowest data warehouse appliance price per TB.
Forecasts and estimates of growth expected in Big Data
IDC reported that the advanced and predictive analytics software market is expected to grow from $2.2 billion in 2013 to $3.4 billion in 2018. On revenues basis, SAS stood as a market leader at 35.4% market share, followed by IBM at 17% and Microsoft at 3%—the third position.
Wikibon expects the Big Data market to grow from the current $28.5 billion to $50.1 billion in 2015. A.T. Kearney expects businesses to spend an average of $8 million on Big Data–related initiatives in 2014. Forrester Research places Microsoft as one of the market leaders in Business Intelligence space, along with IBM, SAP (SAP), Oracle, and others.
All the above estimates, though differing, do point towards an expected growth of the Big Data market in future. As a result, there is a huge amount of innovation as well as competition. EMC with Greenplum, Teradata, Cloudera, and other niche players are innovating rapidly and posing stiff competition to legacy players like Microsoft. With so much exponential growth yet to be seen in this market, Microsoft—through its partnerships, new tools and software, and collaborations—seems all geared up for creating a space for itself in the Big Data market.