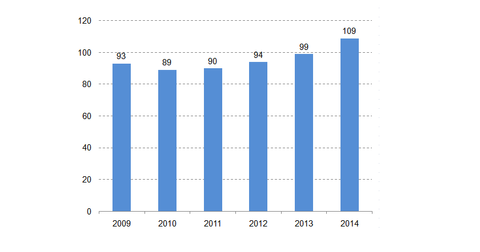 Why Microsoft laid off 18,000 employees
By Anne Shields

Updated
Microsoft's largest layoff
In its fourth quarter of 2014, Microsoft (MSFT) announced job cuts of 18,000 employees that would comprise of full-time and contract employees. The layoff, roughly 14% of Microsoft's full-time workforce, is considered one of the largest in the company's history. Microsoft announced its last layoff, involving 5,800 job cuts, in 2009.
However, layoffs are not uncommon in the tech industry. Yahoo (YHOO), Google (GOOGL), Cisco Systems (CSCO), and recent layoffs by IBM (IBM) of  proves this. In 2012, Yahoo, Google and Cisco announced 2,000, 4,000 and 1,300 layoffs. In Feb 2014, IBM announced 15,000 job cuts worldwide.
Of the 18,000 job cuts announced by Microsoft, approximately 12,500 jobs pertain to the Nokia mobile phone and services division. In 2013, Microsoft bought Nokia for approximately ~$7 billion. As a result, 30,000 employees were added to Microsoft's payroll.
The above chart shows the number of employees associated with Microsoft over the years. The 2014 employee figures takes into account the recent layoffs announced by management.
Layoffs in line with Microsoft's strategy
Article continues below advertisement
The layoffs, as declared by management, are in line with Microsoft's attempt to streamline and reduce costs. In the recent earnings release of the fourth quarter of 2014, the CEO announced that the company plans to shift its focus on key "Cloud OS" and productivity tools across devices. The layoffs seem to indicate that Microsoft is moving away from the decision to make its own tablets and smartphones and, instead, is focused on unifying digital platforms.
Layoffs were expected, but numbers were above the estimates
The news of severe job cuts wasn't exactly a surprise. Microsoft had announced its decision to cut $600 million in costs within six months of purchasing Nokia. After the acquisition, Microsoft combined the smart devices and mobile phone units and together the units would be responsible for the Lumia products.
However, the Nokia division wasn't the only one that suffered the brunt of the cuts. The Windows 8 launch wasn't particularly successful, and Windows Phone handsets were also unable to get significant traction.
Layoffs may make skilled resources wary of Microsoft brand
Recent layoffs will project the company as a place where building successful careers is questionable. There is always a dearth of skilled resources in the technology industry. Microsoft's decision to cut jobs might make talented employees wary of staying. So, Microsoft needs to take steps to retain its stellar employees and contract agencies, or it won't be long when the company lags behind its peers that will take its talented employees.
Microsoft's strategy is to align its workforce with its "mobile first cloud first" strategy. Android doesn't fit with the new business model. Microsoft aims to unify platforms and plans to increase Windows Phone market.